A Cultural Institute at King's project in collaboration with Modern Moves at the Department of English and Serendipity Dance.
In April 2013, The Cultural Institute at King's College London introduced Ananya Kabir to Serendipity's Pawlet Brookes, as part of its efforts to broker collaborations between academics and cultural producers with similar interests. During this meeting, working together on 'creolization' emerged as a viable idea. A year later, we are ready to present to the world our symposium, 'Creolizing Dance in A Global Age'. Funded by the Cultural Institute and organised by the teams at Modern Moves and Serendipity, this symposium sits as part of Serendipity's annual Lets Dance International Festival in Leicester as well as the activities around the Modern Moves website launch.
This symposium explores the dynamics of 'creolization' as a change maker in the dance world, in order to generate a new vocabulary for engagement, diversity and dance. Going to the heart of the multi-cultural, multi-lingual Caribbean, Creolizing Dance brings together for the first time in Britain a constellation of dancers, cultural producers and academics from North America and the Caribbean: L'Antoinette Stines, Artistic Director of L'Acadco: A United Caribbean Dance Force; Patrick Parson, Artistic Director of Ballet Creole; Gladys M. Francis from Georgia State University; Soukaina Edom from Guadeloupe and Zimbabwe, Hilary Brown, programme manager for Culture and Community Development at CARICOM. Also speaking are Roshini Kempadoo, UEL, Ananya Kabir, as Director of Modern Moves, King's College, and Pawlet Brookes, Artistic Director of Serendipity.
The conference will examine the meaning, relevance, impact and potential of 'Creolizing Dance': dance that creolizes, and the creolizing of dance. Through a unique combination of practice and conversation between academics and dancers, of talking and movement, it will reflect on and reveal the spectrum of inter-racial, inter-ethnic, and sometimes paradoxical collaborations and affiliations embodied within the dynamics of Caribbean dance. As the images here testify, we are inspired by the towering figure of Katherine Dunham, African American anthropologist and dancer who, half a century before the 'Black Atlantic' became scholarly currency, was using dance as a spiritual, historical and cultural connector to re-assemble the fragments of the African diaspora in the new world.
To speak usefully about connections, we need to be connected with each other. Ananya's guiding principle, honed during a decade of curatorial work within academia, is to create spaces and conditions where academics and cultural producers can genuinely learn from each other. True exchange of knowledge and expertise can only happen when people are relaxed and feel comfortable in their own skins, and when the hierarchies implicit in traditional academic formats are abandoned. The symposium provided her with a fruitful opportunity to implement and take further this principle. One of the most interesting exercises for the Modern Moves team was to curate thematically appropriate conversation pairs of academics with dance practitioners identified by Serendipity. This format will surely initiate cutting-edge academic debates on creolization processes in the Americas and the Indian Ocean, and dance practice that highlights their continuation in the multicultural present.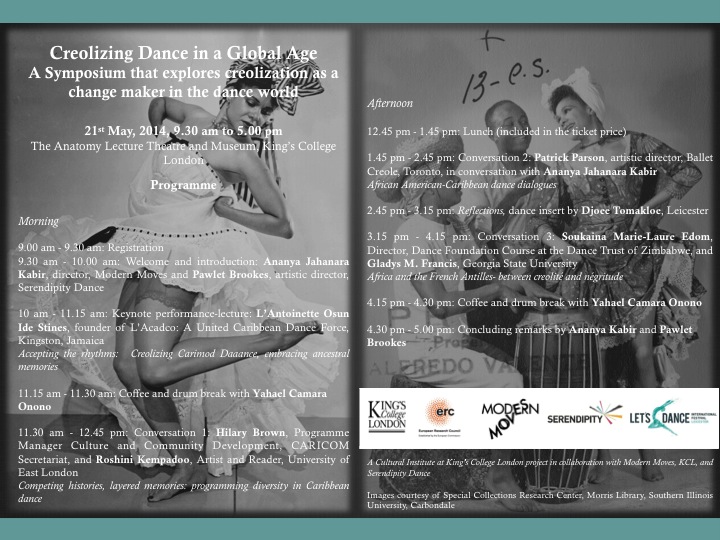 Our symposium is movement-led. The problem with academic events is that we sit down for long periods without movement: hence our programme includes 'drum breaks.' What could happen if we had live drumming during the coffee breaks? With a room full of trained dancers, anything, really! Yahael Camara-Onono, drummer for the Modern Moves kaizen workshop, returns again to participate in this experiment. Also, path-breaking dance interventions punctuate the unique curated conversations- with the keynote lecture-demonstration by L'Antoinette Stines combining dance and scholarship to tell us more about 'daaance' (we can't wait to know more!). In these ways, 'Creolizing Dance' will showcase and enact 'black dance' as comprised of multiple cultural encounters between different heritage groups that have taken place historically in Plantation spaces where Indians, Africans, Chinese and Europeans, all uprooted through the processes of Empire, exchanged music, dance and embodied expression in the daily task of survival. Eschewing a narrow politics of identity, we will instead celebrate an embodied and kinetic awareness of histories of encounter.
As they say in the Caribbean, Axé! Ache pa' ti!