During the past decade, transnational dance floors for Afro-Latin social dances in couple hold (mainly salsa, but also bachata and merengue) have steadily been infiltrated and even, some would claim, superseded by couple dances from Angola: kizomba, tarraxinha and semba. As these dances become ever popular, their growing circle of aficionados in Europe, the Americas and Asia find few answers 'out there' on the precise history of these genres. Additionally confusing is that the music that kizomba was originally danced to was zouk from the French West Indies. This cross-pollination of music from the Francophone world and dance from Lusophone Africa has further muddled the waters and prevented the emergence of a clear narrative of how the dance evolved.
Realising that conventional archives hold too few keys to unlock this story, Modern Moves has been committed to creating the conditions where the archives of dancers' memories and practice could be mined in conjunction with the expertise of academics working on music, dance and politics in the Lusophone world. Ananya Kabir started preparing the ground by approaching practitioners of Angolan dance at their classes and workshops at festivals across Europe. The perfect moment to pull it all together arrived with the information that Advisory Board member Marissa Moorman, author of the only English-language academic book to date on popular music and politics in Angola [link to Intonations] was going to be in the UK in March. On the 19th of March 2014, accordingly, Modern Moves hosted a unique event to explore the history and political significance of Angolan couple dances.
Experienced practitioners were invited to London to explore, together with select academics, the conditions in which these dances developed in Angola as well as their sudden global popularity. They included, from Lisbon, Mestre Petchu and Vanessa Carvalo of Ballet Tradicional Kilandukilu, and Kwenda Lima, creator of Kwenda Lima and Kaizen Dance; Ricardo Sousa and Paula Loureiro of AfroLatin Connection, Oporto; Iris de Brito of Studio AfroLatin, London; and Edson Monteiro (Eddy Vents) and Riquita Alta, established teachers in Britain. Also present were academics Marissa Moorman and another Advisory Board member Fred Moehn from the Department of Music at King's, our Associated Researchers Brenna Daldorph and Chip McClure, and the Modern Moves team members Ananya Kabir, Elina Djebbari, Francesca Negro and Leyneuf Tines.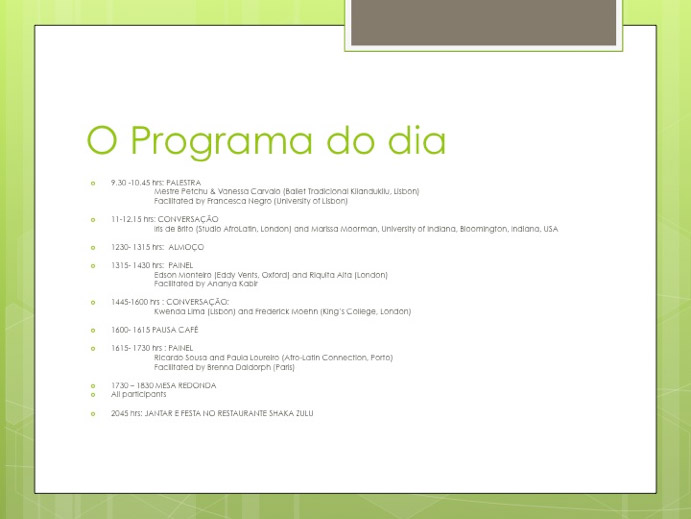 The day commenced with a dense keynote lecture-demonstration by Mestre Petchu and Vanessa, and was followed by conversations between Iris de Brito and Marissa Moorman, Fred Moehn and Kwenda Lima, Edson Monteiro (Eddy Vents) and Riquita Alta, and, finally, between Brenna Daldorph, Ricardo Sousa and Paula Loureiro. Angola, a former Portuguese colony, was decolonized only in 1975 and subsequently plunged into civil war in the shadow of cold war politics. Participants were keen to explore what Angola's history tells us about decolonisation and postcolonialism in the Portuguese-speaking world. The workshop provided a forum for passionate debate about the overlapping significations of 'Angola', 'Portuguese-speaking Africa', and 'Africa', the revelation of difficult personal histories of war and displacement, as well as the demonstration and sharing of dance steps.
Workshop participants commented that the day was 'an incredible experience', 'a real honour' and 'a great opportunity'. All our guests from Portugal agreed that being able to come together in this manner at O Encontro constituted a unique moment in their careers. New pathways to a collaborative historiography of Angolan dance have opened up. If, for our dance practitioners, speaking in an academic setting was different from their usual venues of performance and pedagogy, for the academics in the room it was a refreshing break from the norm to have talks punctuated with dance, laughter and banter. That the entire day's proceedings were conducted in Portuguese was a shot in the arm for those of us trying to improve our Luso-language skills while for others, it was a chance to relax and communicate in a language that was their daily mode of communication.
Our objective had been to create a space where knowledge could be shared between different stakeholders in the world of Angolan social dance, with a view to eventual collective dissemination. We believe we succeeded. We have recorded over eleven hours of discussion in Portuguese, and our Lusophone expert, Francesca Negro, is now transcribing, translating and compiling a report. In true Modern Moves fashion, the evening ended at Kizomba UK's weekly kizomba night at Camden's spectacular African-themed restaurant and club, Shaka Zulu, to which Iris de Brito, the organizer, had invited the whole group. Thanks to Modern Moves, London's kizomba dancers benefited by the unexpected appearance here of Mestre Petchu and Vanessa, who taught a guest lesson and delighted the crowd with an impromptu demonstration. In between enjoying their class and joining other dancers on the floor, the Encontro participants found themselves comparing notes on the relative deliciousness of crocodile, wildebeest and zebra: a fitting pan-African end to an intense day.
Of course, this being an event around Angola's contribution to world dance, the concluding sentiment has to be: 'desliza commigo, piso da pista…'