In collaboration with the Tagore Centre for Global Thought, King's India Institute.
As part of the activities marking the launch of the Modern Moves website, we are proud to host, in collaboration with the Tagore Centre for Global Thought at the King's India Institute, a truly path-breaking event: a film screening, panel discussion and reception dedicated to discussing rhythm encounters between populations of African and Indian heritage in transoceanic spaces such as the islands of the Caribbean and the Indian Ocean. Developing a particular strand of the discussion around creolization the previous day, this event looks specifically at opening up the notion of creolization to engage the layered presence of Indian- and African-heritage diasporic populations in shared island spaces. Brought together by the global currents of empire and the expanding webs and demands of capitalism, these populations have lived side-by-side and inherited the same bodily histories of sugar and sweat that the Plantation engendered. Why don't we have more ways to talk about this encounter? What were its cultural consequences?
To prepare the ground for Modern Moves, Ananya has been travelling, since 2010, to sites of Afro-Indian encounter: Trinidad and Tobago, Mauritius, and Suriname. As an 'Indian from India' (as opposed to the Indians who have lived in these diasporas for generations) she has always been struck by the unexpected combination of cultural divergences and retentions evident in the language, dress, foodways, and of course music and dance of these places. Her own immersion in Afro-diasporic rhythm cultures made her able to feel how these populations had absorbed ways of moving from their Afro-descendant neighbours. At the same time, postcolonial politics means that overt recognition of these connections is (sadly) often sensitive business. One of the dedicated research strands of Modern Moves, accordingly, is to explore ways in which this shared yet politically fraught story can be told (and moved to). A related aim is to bring to the surface submerged rhythm stories connecting the Indian and the Atlantic Oceans- an interest that resonates with wider worldwide initiatives amongst scholars working across history, musicology and anthropology. The Modern Moves team, along with our Associated Researchers and Advisory Board, includes several people with a foot and an ear in both Indian Ocean and Caribbean worlds, and training in African and Indian rhythm systems. We are in an excellent position to intervene in this work.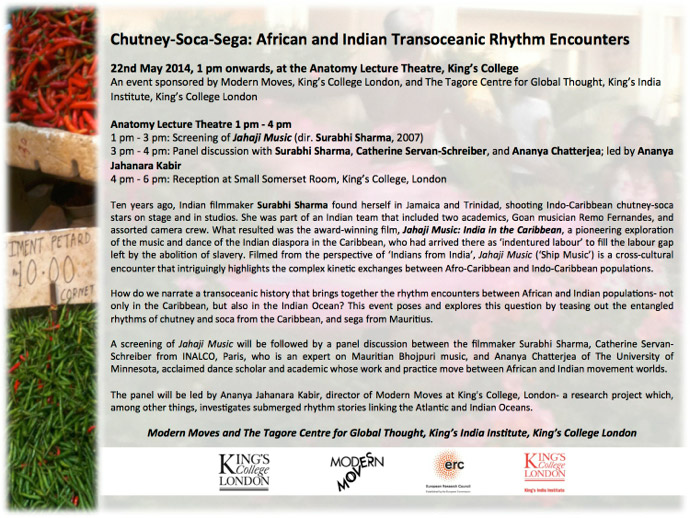 What better way to inaugurate these activities than through collaboration with the Tagore Centre for Global Thought, based at the King's India Institute? After all, the Nobel laureate, freedom fighter, philosopher and world poet Rabindranath Tagore was himself a world traveller, sailing the Atlantic and the Indian Oceans in voyages that fed his imagination with the rhythms and images of distant lands. Maybe all Tagore needed to do was get down and wine…. Or move to the sounds of sega… We are sure that his spirit would approve of this venture, which we are able to implement thanks to the presence in London of Surabhi Sharma, the director of Jahaji Music (2007), probably the only documentary film made by an 'Indian from India' about the rhythm cultures of Indo-Caribbean populations and Ananya Chatterjea, pioneering dance practitioner and academic based in the USA, whose work and inspiration draws equally from Africa, India, and the Caribbean. They will be joined by Modern Moves Advisory Board member, Catherine Servan-Schreiber, who has worked extensively on the interface between Indian and African rhythm cultures in the Indian Ocean. We are excited by this opportunity to kick-start a longer process of writing chutney-soca-sega movement histories!
Vini vini vini vini, la gamat a commencé! ('Gamat dan kartier', Nitish Joganah)
Watch the trailer of Jahaji Music here: