First week in Havana: Rumbero's shoulders and hurricane season
23rd November 2014
On Monday 17th of November, I landed in Havana after a ten hours flight from Paris. I finally exited the airport after a 3 hours wait stuck at the border, which seemed completely normal to the customs officers: when I asked them what the problem was, I only got the answer '¡Estamos en Cuba!'.
This first week has been dedicated to one of the main focuses of this research trip, finding in the archives tracks of a group of musicians from Mali who came to Havana around 1964 to learn afro-Cuban music in the frame of the cultural relationships developed between Cuba and African socialist countries during the Cold War.

Las Maravillas de Mali – Biblioteca Nacional
My strategy being to start with the biggest institutions to the smallest ones, I began my week by going to the national archives and the national library. Unfortunately, none of them seems to have documents useful to my quest and as nothing is digitized, it does not facilitate the work!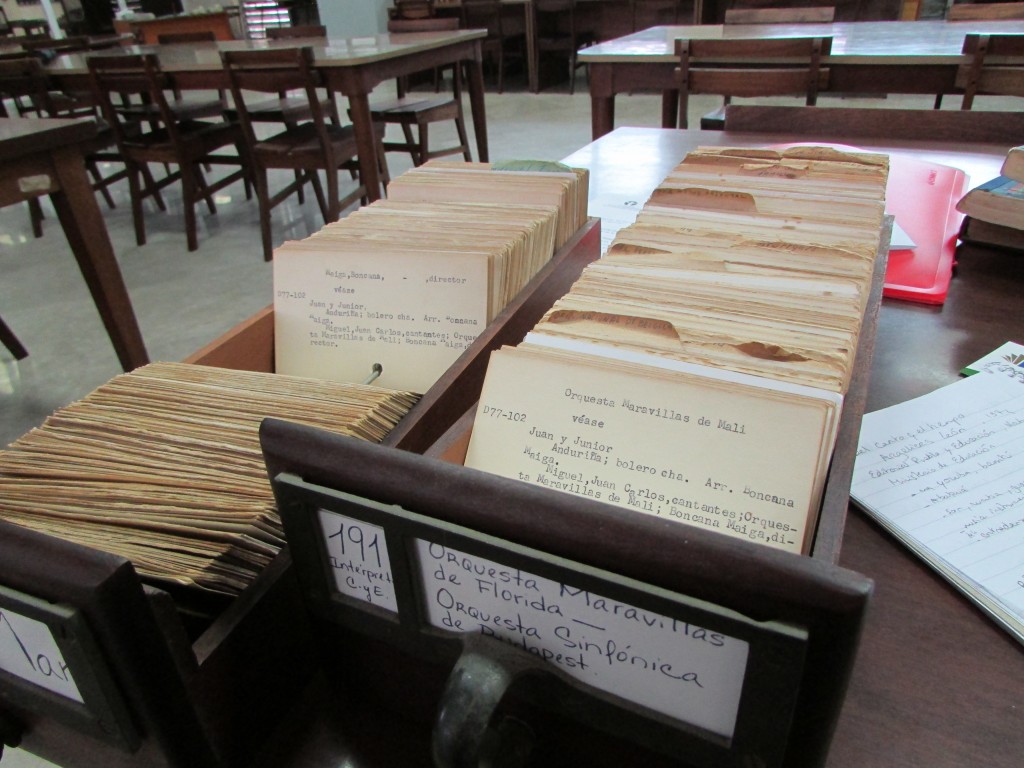 archives search at Biblioteca Nacional
I continued with the institutions dedicated to music in Cuba, and believe me, they are a lot! When you are used to doing fieldwork, you are not surprised to be sent from place to place, but it remains unfortunate, even if all these places are in your fieldwork list! But you also know by experience that even if you do not get anything the first time, nothing prevents you to come back later and maybe be luckier next time!
After having visited these different places: Instituto Cubano de la Musica, Centro de investigaciones y desarollo de la musica cubana, old and new EGREM studios (EGREM: Empresa de Grabaciones y Ediciones Musicales), Centro de investigaciones de politica international, Embassies of Guinea and Mali, I have to admit that, regarding my primary quest, my first week is not very encouraging. Indeed, I am mostly received by this kind of answer: "Musicos de Mali, aqui en Habana?! No hay nada!"… Well, I am pretty sure there is something somewhere and I am determined to find it out! I am sorry people, you will see my face again I'm afraid!
The positive thing is that the evocation of 'Las Maravillas de Mali' sounds however not so unfamiliar to some other people I met. An old man at studio Egrem recalled the group, even the colors of the cover of their disc recorded in 1967, and although he told me that there was nothing in the EGREM archives, I got from him the promise to look for some tracks again next week. Thanks to him, I got an interview with a lady who also has known of them as she was married with an Ivorian music producer involved in the musical relation Cuba-West Africa in the 1970s. I will also have to return to the Malian and Guinean embassies to follow up the seeds I sowed there.
Apart the visits to these institutions, I am also trying to encounter the Cuban salsa scene. If someone was looking at me from the outside, he could see a white European woman wandering around Havana's streets at night, following the sounds coming from places hidden from sight, accepting to follow some complete strangers who suddenly decide to become her guide. In so doing, I got my first salsa dances in the street the day after my arrival and I went to a very nice salsa place in Vedado called La Gruta, which does not appear in the travel guides. There I danced Cuban salsa of course and also a bit of bachata, and I watched the quite long show animated by different groups of dancers. I experienced another salsa night at La Casa de la Musica and today I am about to attend Los Van Van's concert in a place called La Tropical and I am very excited to see them 'en vivo'!
Among the numerous activities I did this week, I think that what struck me the most is certainly the rumba performance I experienced for the first time at El Jelengue with a group called 'Rumberos de Cuba'. With such a name, no doubt about what it was! Even though I had previously watched rumba videos on Youtube, it was completely different to be in it, to feel the involvement of singers, drummers, dancers and spectators. It was undoubtedly 'fuerte' as the lady sitting next to me was exclaiming regularly! I had never seen so many shoulder undulations and shakings, in every kind of position, so fast and during such long sequences!
During this first week, I tried to understand how things work here, how a foreigner in general and a lone white woman in particular could deal with the basic aspects of life. I feel now able to pursue my research and hopefully be more successful next week. Nothing new about this since ethnographic fieldwork is indeed also like that: being alone in an unfamiliar country without any of your usual means of communication, looking for something nobody (or almost) cares about, getting lost by trying to find a place for which the address you have is something like 'calle 3ra e/ 10 y 12' or 'calle 13 e/ M y N' or again – this one was hell: 'calle 36-A, e. 7ma y 5ta'; drinking cocktails with potential informants in which, unfortunately, the proportions are more rum than anything else! Indeed, forget about your previous European experiences of Cuba Libre or Mojito– how they do it here is like this: ¾ of the glass is filled with rum and the remaining quarter with ice and the rest of the ingredients, and this is when you have said: please not too much! ☺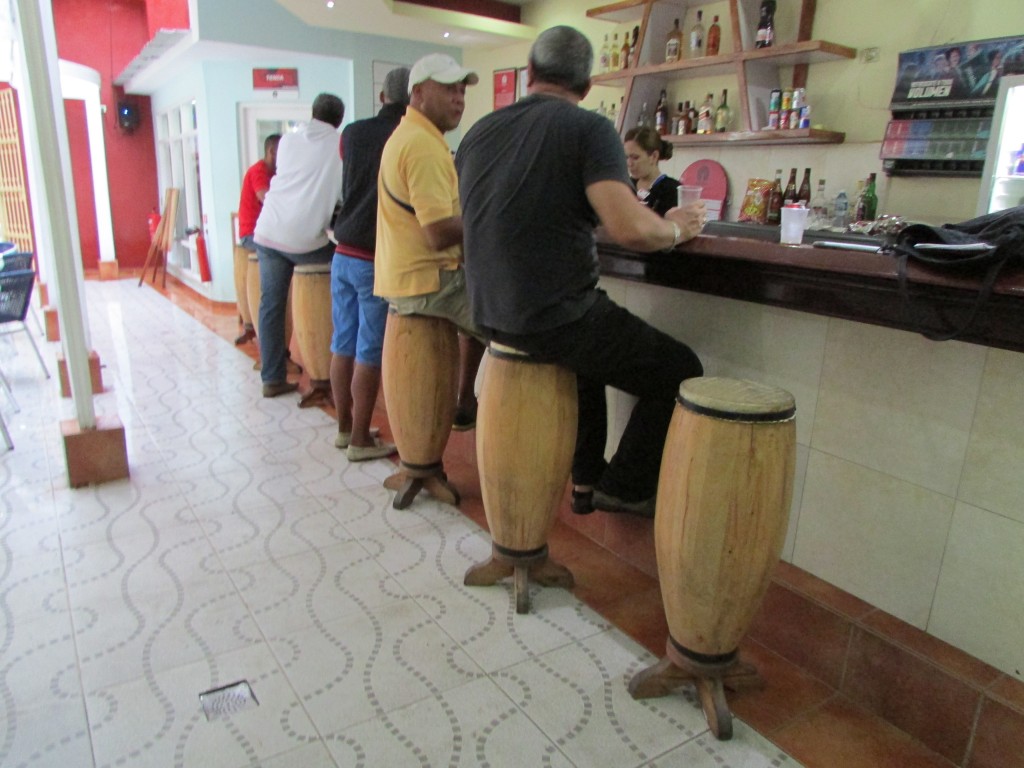 Sitting on conga chairs: only in Cuba?!
Despite some postcards clichés that you cannot avoid, the old American cars and the women with a huge cigar at their mouth, violent rains due to the hurricane season unexpectedly mark this first week in Havana… As an interesting resonance, the undulations of the Rumbero's shoulders and the thunder rolls of Cuban tropical storms welcome my first week in Havana! (Chango 'ta veni– adds Ananya!!)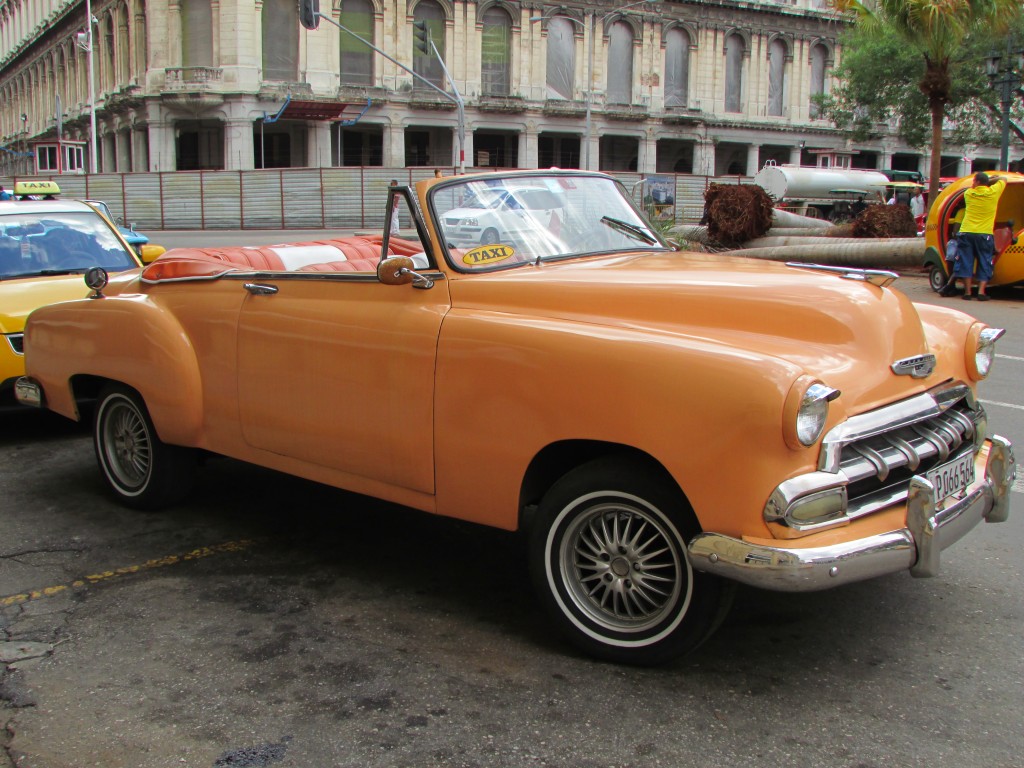 Photo 5: Car in Havana