The first time I heard about A Lontra disco was the night that Luísa Roubaud, one of the best experts in the dance scene in Lisbon and a great colleague and friend at INET-MD (Instituto de Etnomusicologia), talked to me about it. We were enjoying a night out with some of her friends who used to go to African music clubs since the eighties. Having witnessed all the transformations of the last decades, they were making a contrast between nowadays´ kizomba fashion night life and the golden times they remembered in the 70s and the 80s. As memories started popping up, their eyes shone when talking about A Lontra, a mythical dance club that opened in Lisbon after the outbreak of the independence wars of Portugal's former African colonies. The owners were a married couple that came from Luanda and landed in Lisbon in 1975, running away from the war of independence in Angola, like other more than 500.000 people after-25th April 1974 (see Machado 1974). These frequent visitors of A Lontra remembered that the couple consisted of an incredibly beautiful Black African lady (Dinah) and her husband, a White Portuguese gentleman (Carlos Correia). Just like in fairy tales, the beauty of Dinah was well-known and admired in the kingdom of the African nights of Lisbon. They insisted that I should go and speak to her to know the whole story from her lips. Since that day, I had been looking forward to meeting her and making her an in-depth interview. I had seen the front door with the old metal sign representing an otter (that´s the meaning of "Lontra") many times when passing by Rua de São Bento, and it was the night of Saturday 28th February that I decided to visit the place.
DOOR OF A LONTRA
METAL ICON OF A LONTRA
As I entered and approached the bar to ask about the politics of consumption, an ageless beautiful lady dressed in an elegant black suit came along walking slowly to attend. At that very moment, I said to myself: "no doubt, there she is". Indeed, she was the legendary Dinah. I was lucky enough to get an appointment for an interview to know more about the history of the place and its secrets.
A Lontra was opened in 1977, right after Angola achieved its independence. This means that it was one of the first African discos of Lisbon. Like all the people who went to Portugal running away from the African wars of independence, they had to restart their lives from zero. Until they could find a way to make a living, they depended on public subventions aimed at "retornados" ("returned people") and on the hospitality of their extended family. As they were experienced in managing discos in Luanda (such as the ones they owned, Cave Adão and Veleiro), they decided to start up a new business in the same branch. It was directed in principle to an audience of "retornados" that missed Africa and their lifestyle there. Gathering for listening to their beloved music became an urgent need, and A Lontra came to offer a home to alleviate homesickness through dancing together. The following images show some of the original spaces of A Lontra.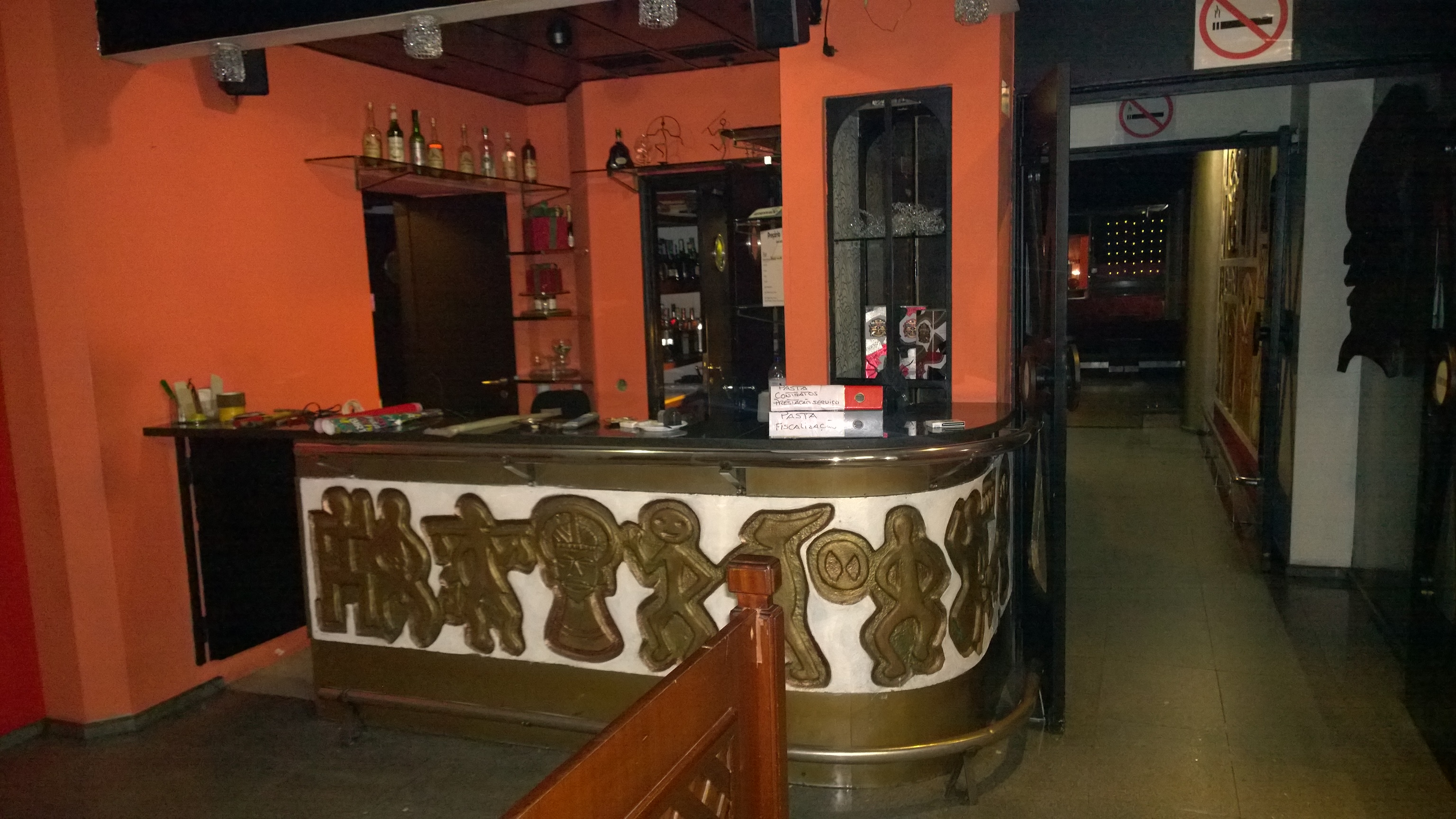 FIRST BAR, A LONTRA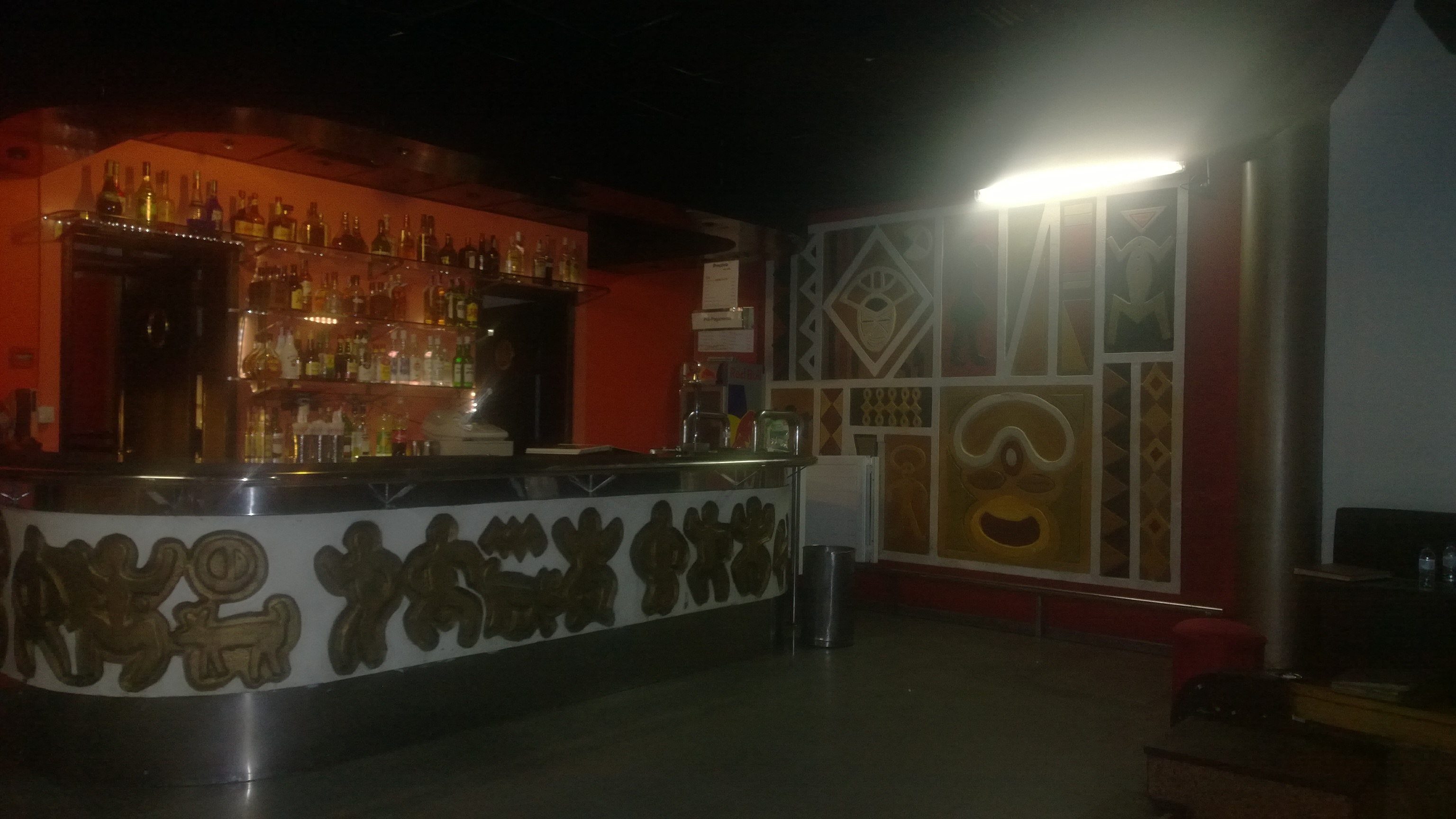 SECOND BAR, A LONTRA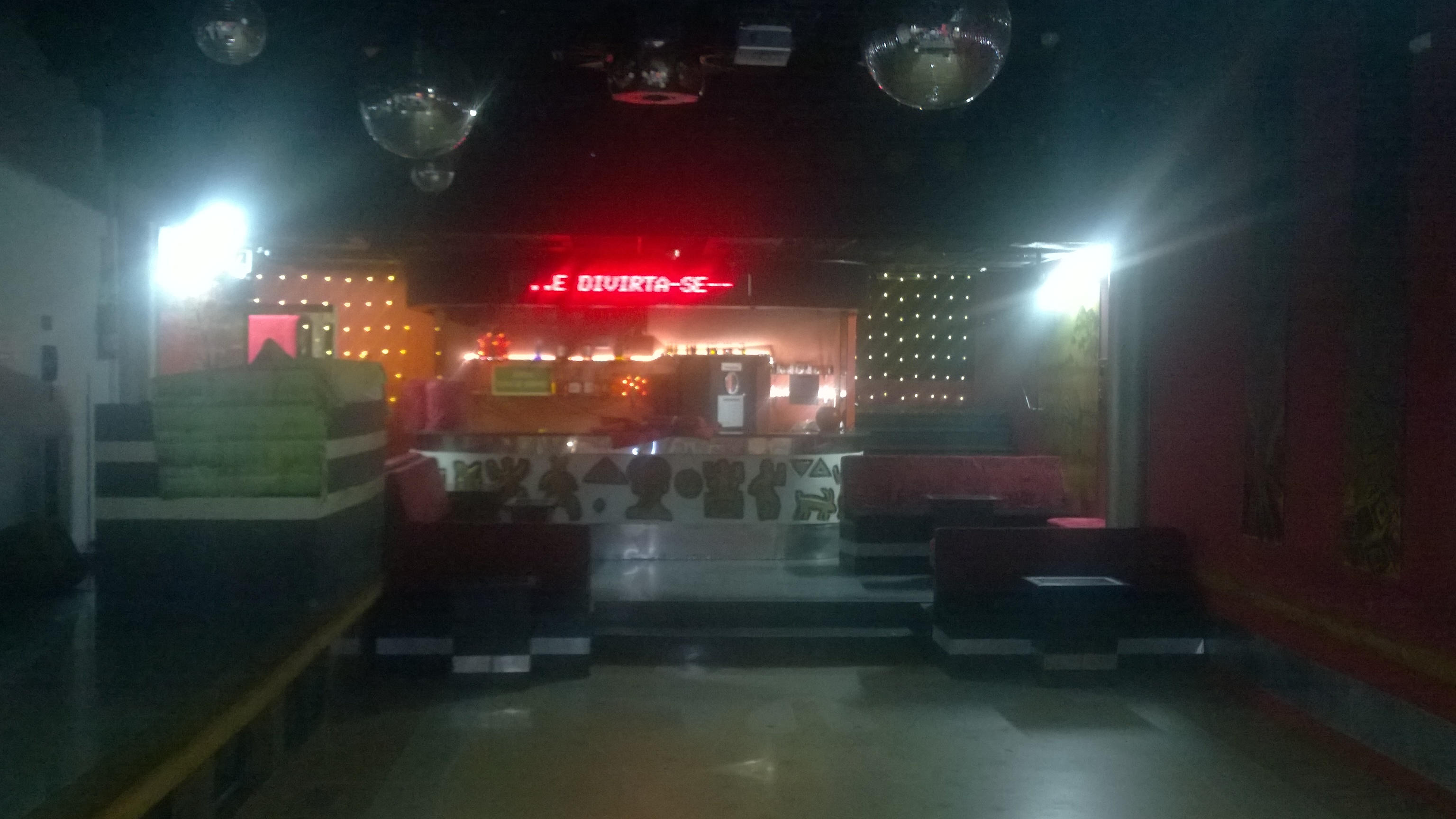 DANCE FLOOR, A LONTRA
A Lontra is situated in an emblematic place (Rua de São Bento 157), less than 5 minutes from the Assambleia da República, the most emblematic political institution of Portugal. It was not long time before some deputies, as well as intellectuals and artists heard of A Lontra and came to satisfy their curiosity. This nucleus of the political, artistic and intellectual elite of Lisbon became a faithful group of clients: these were the golden times of A Lontra, between the 80s and the 90s. In those days, DJing was combined with live music. Among other treasures, Dinah still keeps a large chest full of old vinyl discs of African music: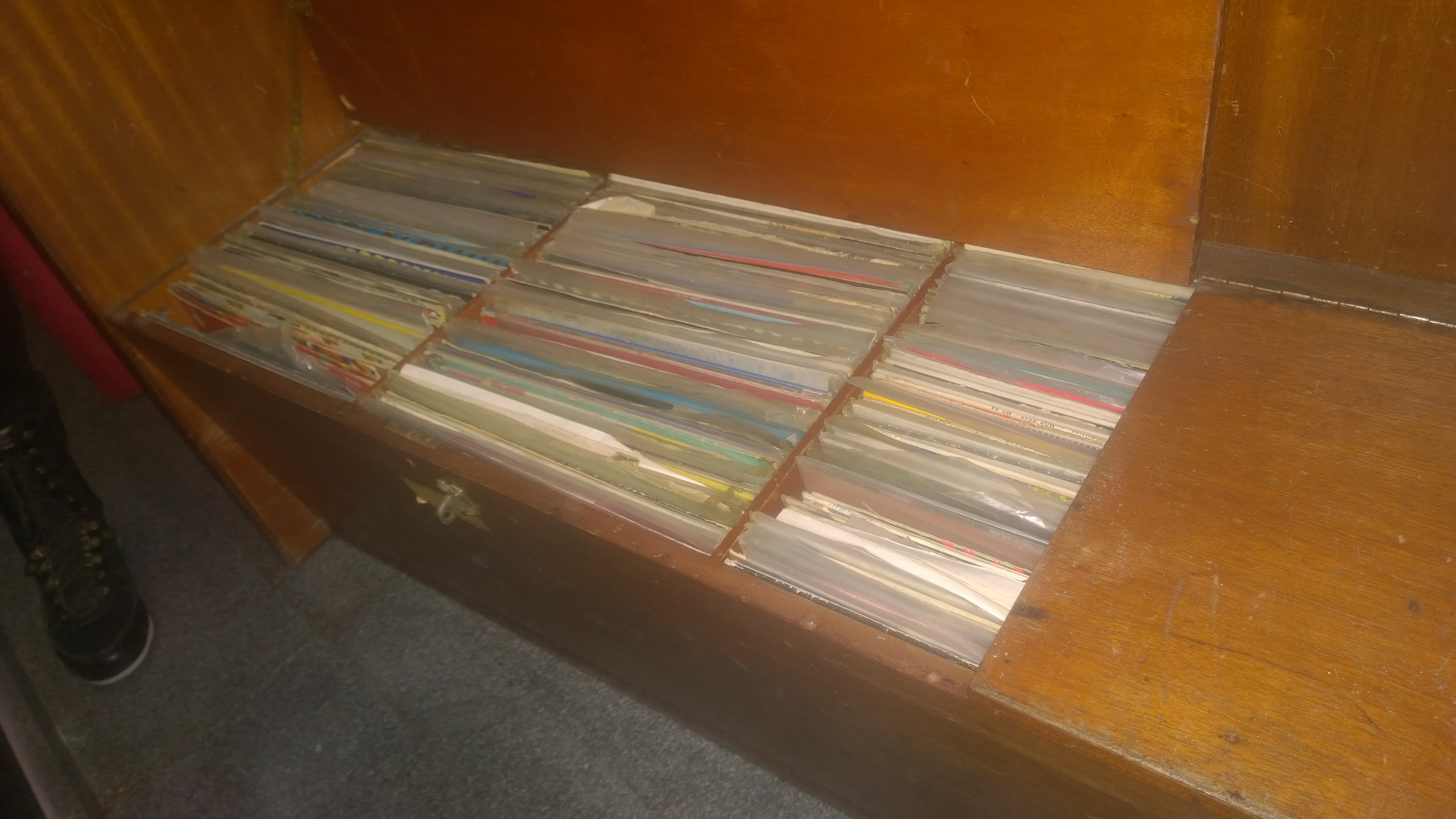 THE CHEST OF VINYLS
SOME OF THE OLD VINYLS (WE SEE IMAGES FAMILIAR FROM OUR RECENT VISIT TO COTONOU!)
Dinah also possesses  a beautiful collection of art handcraft bought during travels to Angola, which are also displayed in the disco.
ELEPHANT WOODEN CHAIR
FEMALE FIGURE IN WOOD
MASK IN WOOD
Another jewel that she keeps carefully is a collection of pictures of those days. Some deputies used to gather in A Lontra for a drink after their sessions in Assambleia da República. Sometimes, they held meetings in a private room that Dinah gently opened for them. It means that important decisions for the future of Portugal were taken inside A Lontra´s walls.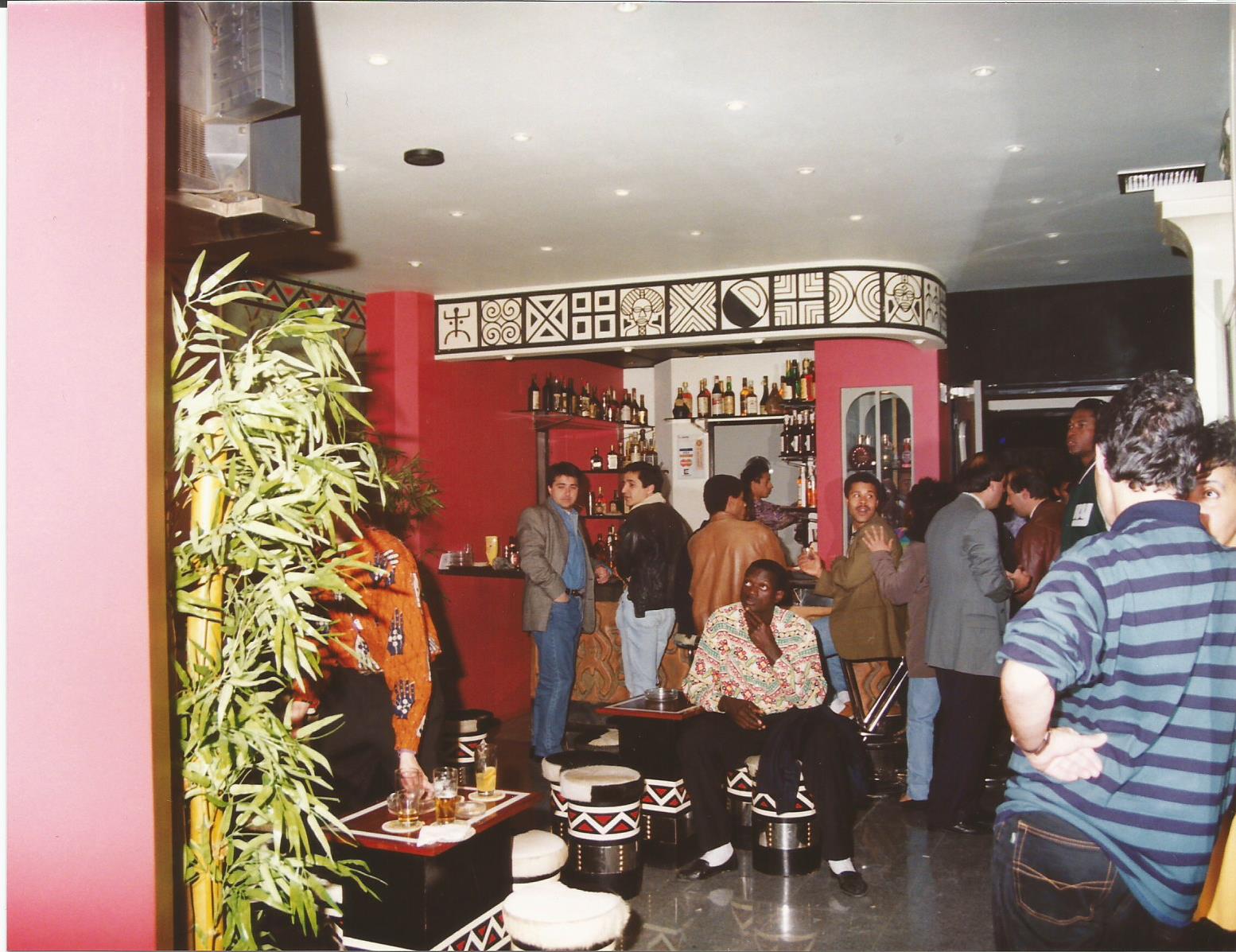 A LONTRA, A NIGHT IN 1996
Through the 70s and 80s, more African houses opened up in Lisbon. Dinah and her husband Carlos opened a second house in 1980, "Cave Adão", following the style and fame of the disco they had opened in Luanda, and in 1989 Dinah opened the disco "Rainha Njinga" (an epical Angolan queen known for her fierce resistance to the Portuguese colonizers). The clientele changed through time, and A Lontra started being visited by more and more people from Cape Verde. Vinyl music changed to CD, and later to digital files in the DJ´s computer, and the styles and ambience of the house changed too. With the recent boom of kizomba music and dance throughout the world, A Lontra adapted to the new times and DJs started introducing the most recent hits of kizomba. This is an excerpt of the fieldnotes I took that night:
"The night starts with loud afrohouse music, what indicates that the audience will probably be mainly people in their twenties. As expected, young boys and girls start coming since approximately two o´clock at night. The first beats of recent kizomba hits make some couples jump to the dancefloor. There is a pair of couples doing school-like steps, but the rest are dancing free style. Two boys leaning on the bar encourage themselves and finally leave their glasses on the counter to go and invite some of the girls that gather in groups by the edge of the dancefloor, but they refuse. Only when one of them insists and pulls a girl´s arm she accepts with a facial expression of resignation. Anyway, she abandons him in the middle of the song. It seems that it´s a hard job for boys. Then the DJ turns to Brazilian and international commercial music, such as Enrique Iglesias´ "Bailando" hit. Girls go crazy dancing in groups and having fun. The moment of funaná creates a new atmosphere: there are not many people dancing in couples, but mostly girls dancing among themselves and joking with and through the music. There is a girl dressed in a stripped blue and white tight dress who dances in an amazing and crazy way, moving her hips and feet in every possible way without ever losing the beat. Dinah is looking at her from the counter and smiling with pleasure. Then the DJ moves to batuque and people get even crazier, shaking hips and bumping navels on the dancefloor. Popular music from Cape Verde, mostly from Santiago, is played for a long time and intertwined with musical blocks of kizomba and afrohouse." (Fieldwork diary, 28th February 2015) (To know more about batuque music and dance in Lisbon, see the work of Ana Flávia Miguel and Jorge Castro Ribeiro, INET-MD)
In conclusion, A Lontra can be proud of being one of the oldest African houses of Lisbon still open today and of having witnessed the recent history of Lisbon. It has resisted the changing times through adapting to the social and cultural transformations of the city. The dance steps of artists, politicians, intellectuals, curious visitors and people of all ages and from every corner of the PALOPS, have written on its dancefloor the history of relations between Portugal and Africa for at least the last 38 years. But, unlike an old museum, music has kept A Lontra young and alive. When asked about the secret for this, Dinah smiles and says: "this is something you do because you love it".
Livia Jiménez Sedano is currently a member of INET-MD (Instituto de Etnomusicologia-Centro de Estudos em Música e Danca) and her work is being funded by FCT (Fundação para a Ciencia e Tecnologia) of Portugal. She is a collaborator in the Modern Moves Project and will become a full member of the team in September 2015.
REFERENCES:
Machado, Fernando Luís (1994) Luso-africanos em Portugal: nas margens da etnicidade. Sociologia: Problemas e Práticas 16: 111-134
Featured image: Archival photo of A Lontra, a night in 1996