Moving Group 3:
"The Commodification of Kizomba: a Bridge and a Wall between Cultures"
Livia Jiménez Sedano (INET-MD, UNL)
5pm-7pm Friday 31 October
Room K6.63
King's College London, Strand Campus
For our third Moving Group, Livia Jiménez Sedano, postdoctoral researcher at the University of Lisbon, spoke to us about the politics, pleasures and identity formations around the Angolan social dance form, Kizomba.
We are delighted to bring Livia into our Modern Moves network as an Associated Researcher!
Featured image: courtesy of Livia Jiménez Sedano
Currently working on her postdoctoral project "Dancing ethnicities in a transnational social world," Livia also participates in a research project on Islamophobia and gender relations in the Muslim Diaspora in Spain. With a PhD in 2011, and three MAs (in Migrations, Berber studies, and Professional Expertise in Islamic religion and culture), and several languages at her command, including Arabic, Berber, German, and, of course, Spanish, Portuguese, and English, Livia is certainly our kind of Modern Moves person! Since 2012, she has done fieldwork in dancing contexts in Madrid and Lisbon including African discos, dance schools, dancing associations and public celebrations. This material formed the basis of her exciting and illuminating talk to us.
In the abstract Livia sent to us prior to the talk, she described her subject as follows: 'The social dance known as "kizomba" became a commodity offered at dance schools in Portugal during the nineties. Since then, it has spread all over the world with great success: the number of teachers, dance schools, workshops and international congresses has increased dramatically in the last ten years. This phenomenon has not led in general to a better understanding of the cultural contexts where this form of dance originated and is still danced nowadays. In fact, at least in South Europe, people of African origin and students of kizomba schools have become to some extent divergent dancing communities. Nevertheless, there is a tension between approximation, curiosity, dancing together and mutual exclusion. In this sense, we can say that kizomba has become both a bridge and a wall between cultures. In order to understand these complex processes, we first need to go back in time and analyze how the diverse dancing communities were created and diverged in Lisbon since the sixties until today. The recent history of decolonization and migrations between the PALOPs and Portugal, the economic improvement of South Europe in the nineties and the actual financial crisis are the key factors. Through an ethnographic dense description of a dance floor, we will explore the way moving bodies tell us about this history.'
What was fascinating about Livia's talk was the painstaking detail she deployed to construct a viable methodology for studying a subject as slippery and ephemeral as the dance floor. The dance floor is no book you can return to time and time again to refer at will or refine an argument; there is no way of reconstructing what happened during a night of social dance; even if you used the most skilled dance photographer you would not be able to capture all aspects of the dancers' interactions with each other and the music. Nevertheless Livia managed to nail it with an impressive multi-dimensional strategy which combines a) close observation of a pre-determined number of couples; b) understanding of each couple's personal biography as placed against the larger currents of migration which brought Portuguese-speaking African people– the vectors of kizomba– to Lisbon; c) diagrammatic representation of the dance moves they inscribed on the floor d) elucidation of those schema via carefully chosen videos by other dancers already in the public domain or part of her archives; e) the use of other dancers' comments and judgements to unlock the social meanings of their dance styles.
In the process, Livia wove a fascinating tale of the dance floor as the space to work out the relations of respect and innovation between different African-descendant generations in Lisbon, and between different categories of postcolonial Lusophone subject, in dialogue always with the dance floor as a space where inter-racial desire and inter-class tensions are worked out and played through. While all kinds of dance floors are spaces of interaction, transgression, and transformation, what was so illuminating about this talk was how it could tell us something specific about Afro-Luso social dances as, in the words of her title, a 'bridge' and 'wall' between cultures in the postcolonial Portuguese-speaking world. On the one hand, in the African and general discos of Lisbon, we see a process of whitening and re-africanisation of the dance, which enacts a process of tension between racially-defined communities, but on the other hand, inter-racial curiosity makes the dance a facilitator of communication and new forms of cultural mixing. A new 'cool factor' in perceptions of African-ness is accompanied by the very real occurrence of the denial of the other's dance by turning to studio-based, less 'natural' styles, enacting a symbolic violence that- in a suggestive end to the talk- Livia traced to colonial practices of fetishisation and (mis)representation of subject populations as the 'other' to white civilisation.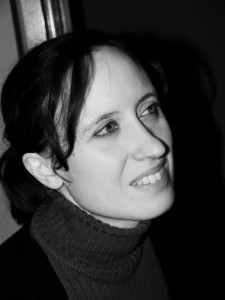 Drawing on exhausting nights of research and analysis at all the major and lesser known clubs of Lisbon– from Jazzy to Barrio Latino to Ondeando and Sabura–Livia's talk was rich in empirical detail; but it also helped all of us in the audience articulate more clearly what we set out to do when we want to work as well as work on the dance floor. The unit of analysis emerged as the dance event governed by unwritten rules regarding dress, drink, duration of dance, invitation, gender conventions, and the dance floor itself shimmered in meaning between 'a book of history', 'a museum' and even an 'encyclopaedia in motion', a 'library', and an 'embodied diary', while the dancing body as archive was movingly recalled as the 'last repository of memory'.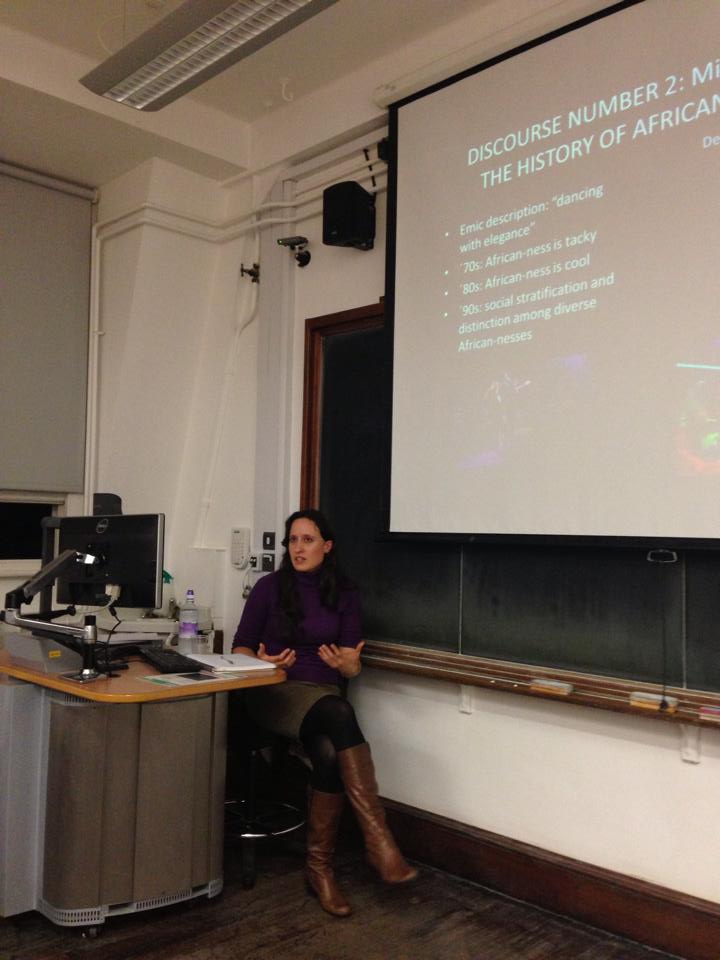 As Mahmoud Darwish had said in the context of Palestine, 'where do the birds fly/ after the last sky'? It seems to me, in the light of Livia's talk, they fly with the dancing body, and make the body fly. The precarious life of the dance floor is a moment of reconstructing fragmented histories, consolidating community, asserting distinctiveness through the dignity of embodied knowledge, but also reaching out and creating new human bonds through touch and sensation. This is what kizomba perhaps can tell us through its creation in the ashes of the last, violent days of the Portuguese empire and the long night of difficult decolonisation.
The discussion continued over wine, where audience members brought their perspectives from salsa and techno dance floors to extend the conversation.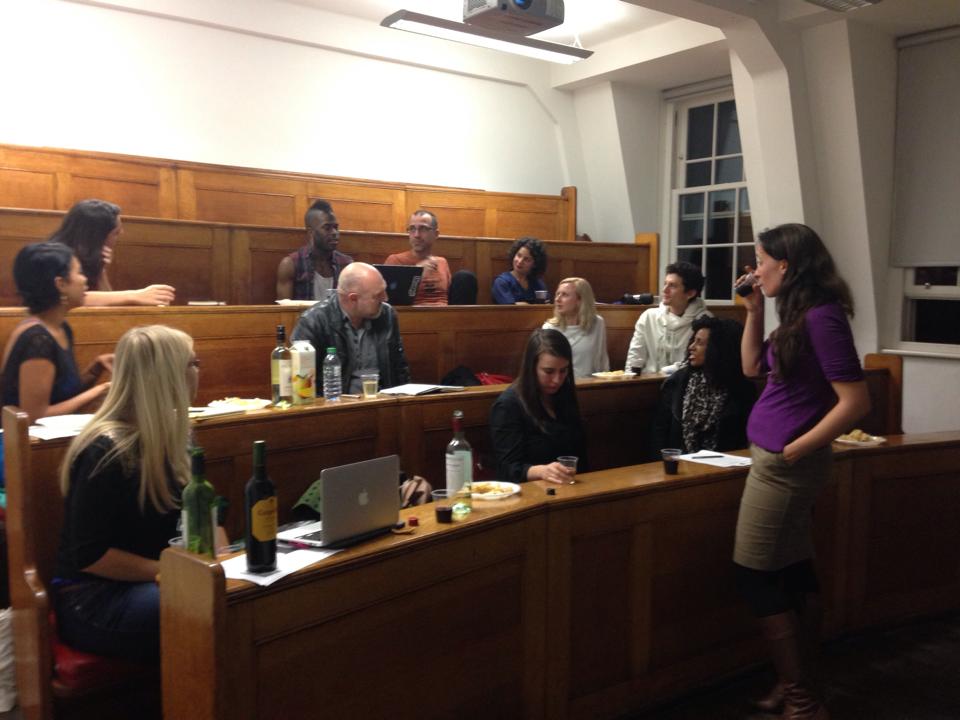 Our evening concluded with a wonderful dinner at a new Modern Moves discovery, the Mexican restaurant Mestizo . On the whole, an extremely rewarding evening for all of us who were there!