June 2014 has been a really productive month! Although we were recovering from our launch events of 21st and 22nd May, various networking opportunities arising from those events meant that we have been kept on our toes!
As Madison reported earlier, on the 31st May we were at The Place, enjoying the ADAD (Association of the Dance of the African Diaspora)'s VIP reception. Here we met up with several luminaries of the London dance community who had attended our symposium Creolizing Dance in A Global Age– including Namron, OBE, Jackie Guy, and H. Patten. Namron- one of the founder members- told us a bit about the early history of The Place- from an ammunitions storage space to a hub for African and Contemporary dance!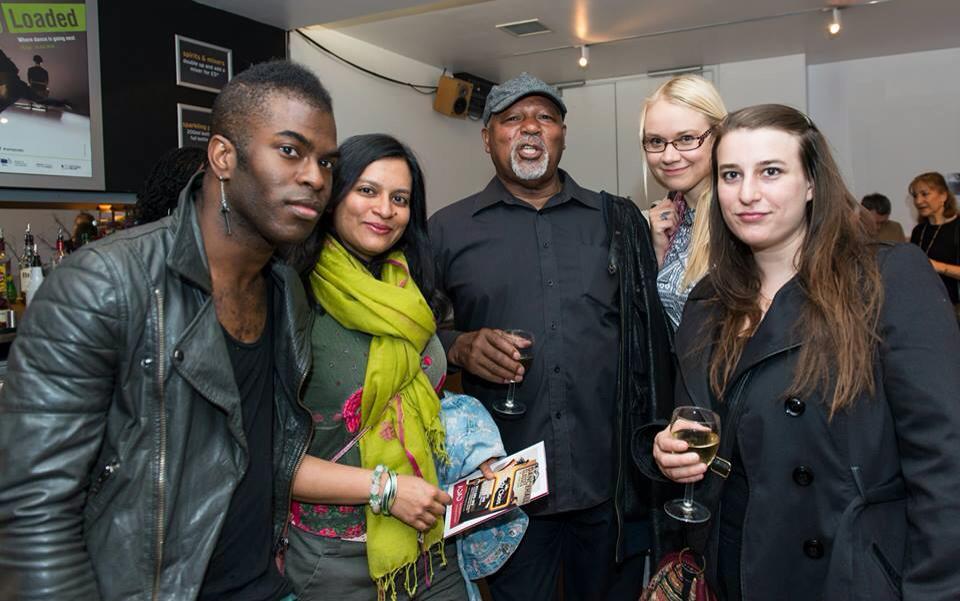 We carried on that evening to the Hoxton Arches and a celebration of French Caribbean culture– Haitian food and French West Indian drumming and dancing courtesy Zilo'ka- here, too, we met people who had attended our symposium. If that were not enough, some of us went to the monthly ULU salsa and kizomba night organised by MamboCity, where we shared the dance floor with others in our academic-dancer network!
Through our symposium we had clearly created the conditions for being recognised as a group that adds value to the work being done by Afro-diasporic cultural producers in London. We are beginning to understand how these cultural producers link up with each other and are connected through personal and professional networks. We also get to know of some pretty awesome concerts, gigs and parties!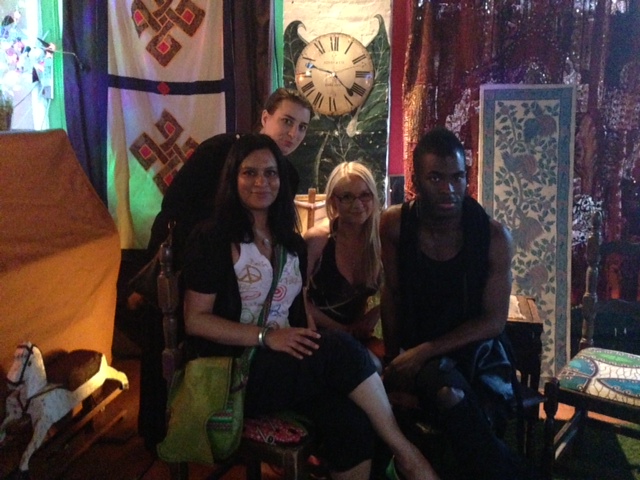 So on 13th June, we attended the concert of the band Family Atlantica at the legendary Dalston venue, Passing Clouds. Fronted by the charismatic Luzmira Zerpa, the band came highly recommended by our advisory board member Manuel Barcia Paz. We also enjoyed an insider's tour of über-trendy Dalston, where even 'pop-ups have pop-ups'; secret community gardens thrive as folksy England 2.0 (kind of Bilbo Baggins meets WOMAD); and the C. L. R. James Library reminds us of London's relationship to Black intellectual history.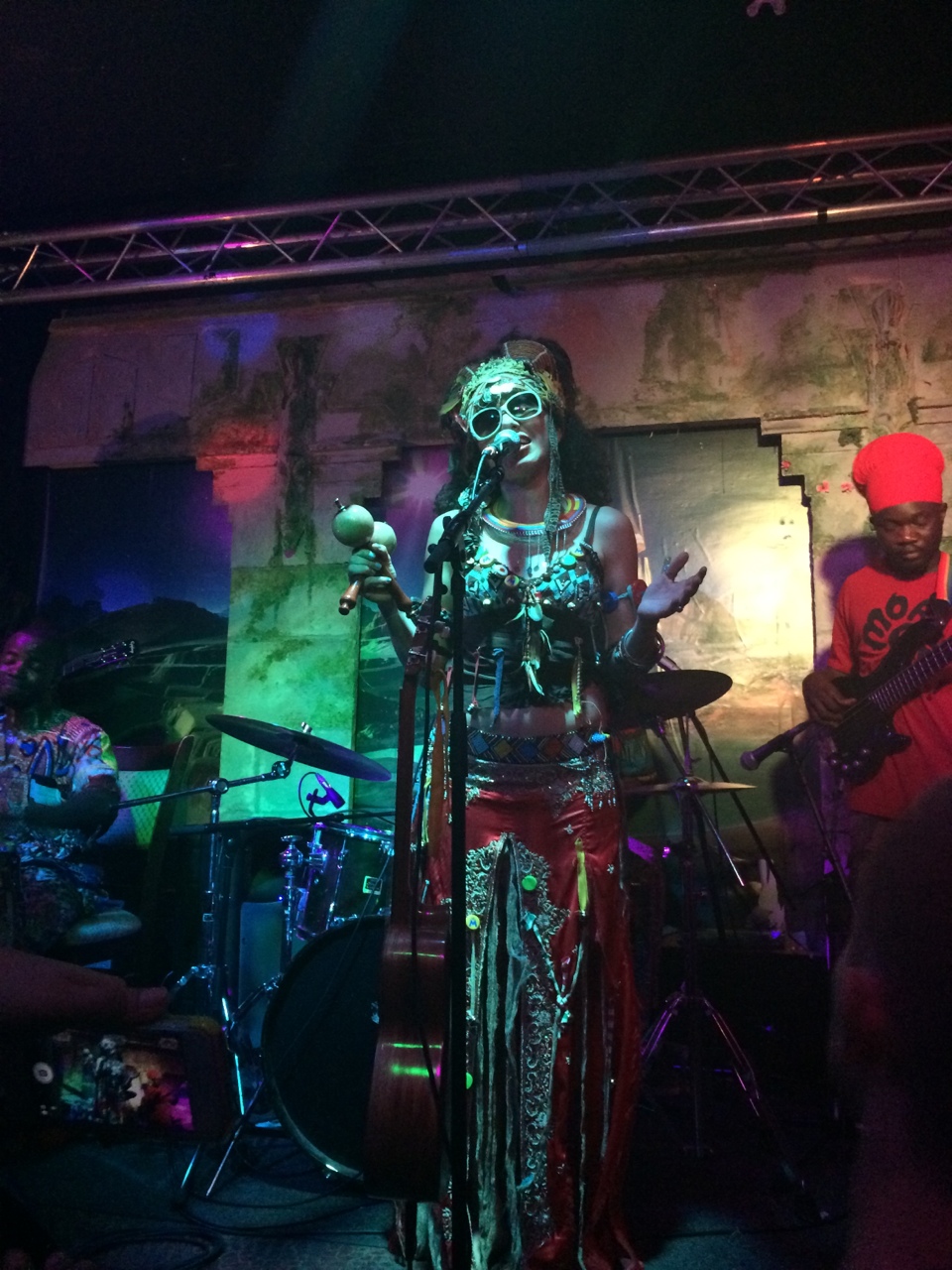 The gig itself was somewhat marred by poor acoustics in the venue and too much dancing of the 'jumping up and down' kind. Nevertheless it was fascinating to watch the charismatic Luzmira with her feathered headgear, retro shades, generic 'tribal' outfit festooned with bells and whistles- a kind of Venezuelan Frida Kahlo reuniting with African roots. As she announced, 'Family! We all know the history between Europe (points to the audience), South America (points to herself), and Africa (points to her musicians).
(Where does that leave an Indian from India, whom Columbus set out to discover before chancing on the Americas, I wonder???? Thought for another day!)
The next day, Elina and Ananya attended a Cuban Bootcamp organised by some of our favourite dancers of the Cuban style, Anneta Kepka and Osbanis Tejeda of Deakocan Dance. What we shorthand as 'Cuban salsa' (it's a bit inaccurate to call it 'salsa', but again, that's another topic for discussion) definitely demands a certain kind of body work that is – in Ananya's opinion- linked to the conversion of that island's Plantation history to socialism and its precarious economic identity in a post-Cold War world. This was an opportunity to brush up our Cuban techniques, think while moving, practice switching from tiempo to contratiempo, and also reflect on the growing use of the word 'Bootcamp' in social dance circles!
The following morning, fieldwork continued with Madison, Elina and Helena attending Jaded, South London's beloved Sunday morning/afternoon techno party. Held at Corsica Studios, a secret venue right next door to the Elephant and Castle tube station, Jaded is a throwback to the ubiquitous rave parties of the 90s and offers dark big room techno vibes in a space that feels like you're not supposed to be in and flashes of underground grit, topped up with a sound system that'll shatter your rib cage.
That day Ananya had to come back to Manchester to attend her samba de gafieira choreography course led by Arthur Araujo Gontijo of Arthur and Aiste, London. So two very different kinds of dance activities conducted simultaneously. The Sunday techno party was enjoyed by all and provoked certain great comments on the phenomenon of the dropped beat during the team's second recording session around Time in Afro-dance.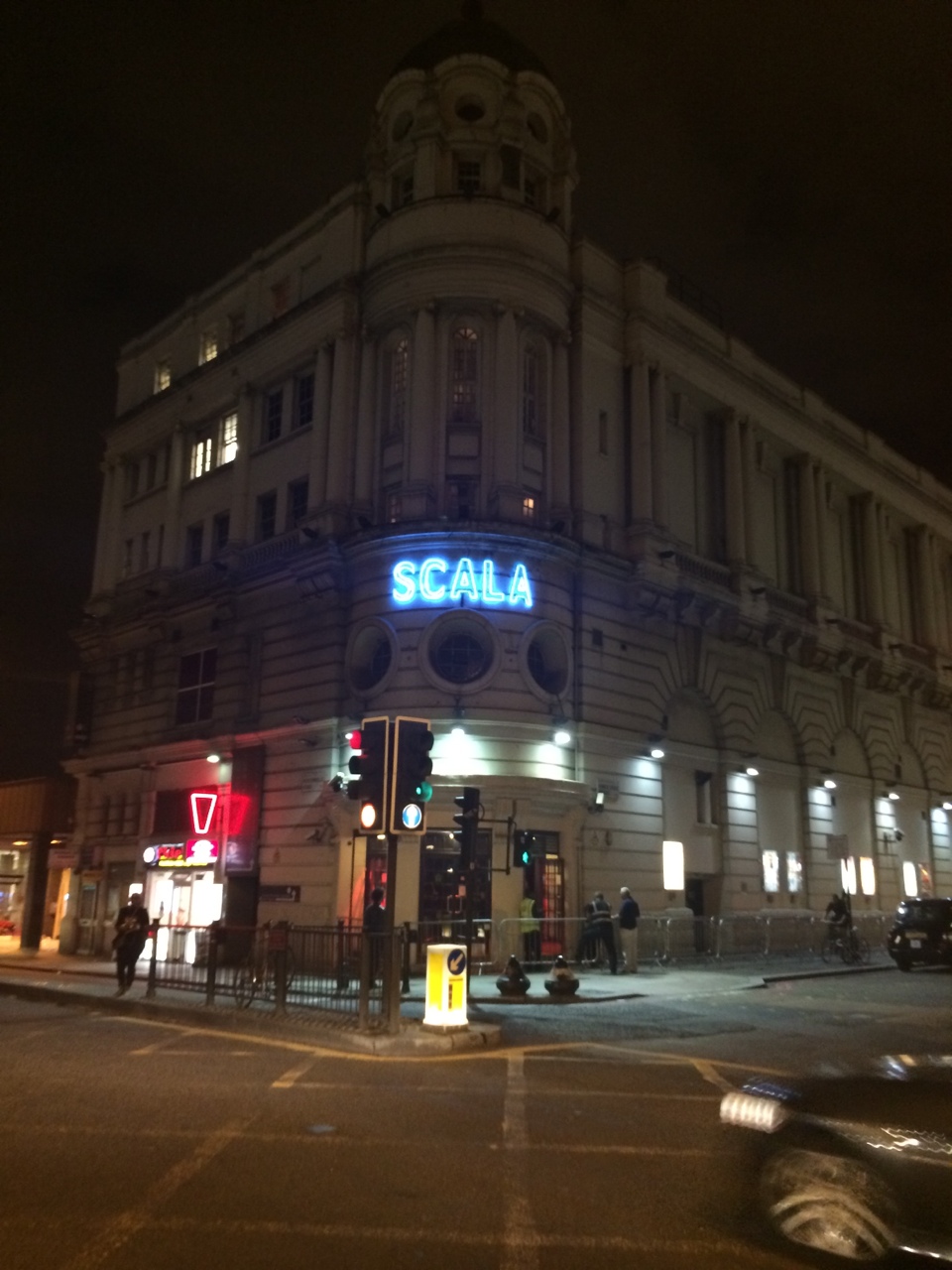 Our on-going comparisons between the Afro-Electronic and Afro-Latin dance floors were beautifully aided when Madison accompanied Elina and Ananya to London's monthly Latin social, El Grande now in a new venue, Scala. The irony of a native New Yorker entering a salsa floor for the first time in London actually proves the transnational nature of our work and world! Madison's keen observational eye heightened our own self-reflexivity on the dance floor. Knowing he was watching and taking notes of us dancing meant we thought and danced harder! One of the conclusions- Ananya has a definite 'dance face'!!!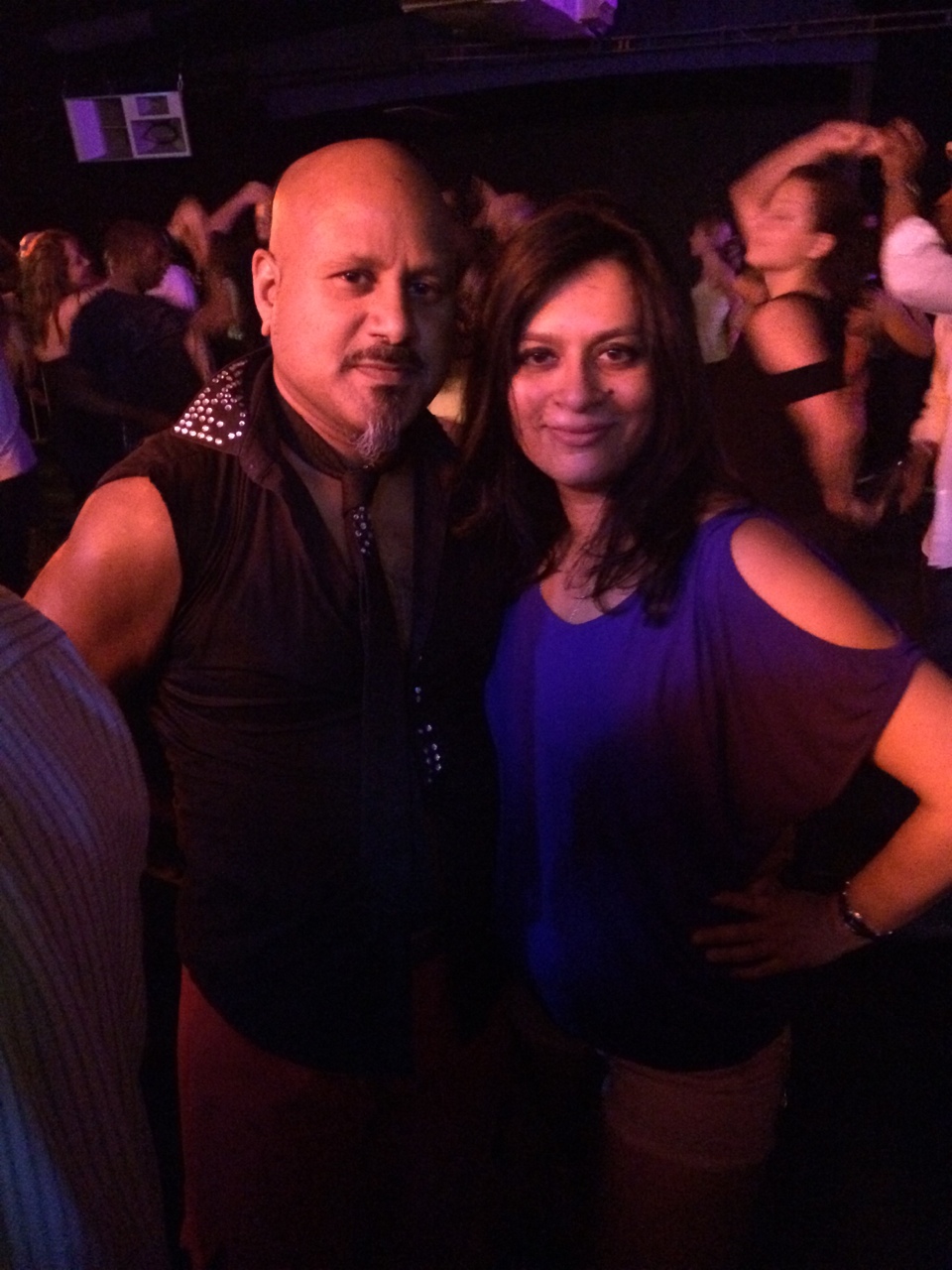 On Sunday the 22nd of June, matters continued in their usual fashion- Ananya at her samba de gafieira class, Elina and Helena at a khassonke workshop with Yahael Camara-Onono at The Place, Madison at Sunday morning techno, and Francesca wowing the elite dancers at the Criola Festival in Barcelona with her multilingual abilities- including counting the beats in kimbundu while teaching her dance class….! (who thought that, with Italian, Spanish, French, Russian, Portuguese and English, she couldn't possibly have room for more languages? You were wrong!)
Dancing is not all that we've been doing to establish our presence in London's Afro-diasporic rhythm networks. The last week we've had some incredibly productive meetings with key individuals within these networks: Mercy Nabirye, director of ADAD; Teleica Kirkland and Paula Allen of The Costume Institute of the African Diaspora, Cecile Bushidi of SOAS, and the dancer-academic Akosua Boakye. In all these conversations, what kept recurring was the dynamic and historical relationship between photography, style, dress, and Afro-diasporic dance. We are really excited about the possibilities opening up for productive collaborations with all our new friends!

What is most interesting is that the (positive) pressure of these networks seems to have drawn the centre of gravity of our research activities away from social dance with African roots to institutions invested in the choreography of Afro-dance. But does this shift impel us to reconsider the relationship between choreography and social dance in the Afro-realm? Are we not performing in both settings? Questions, questions! All the better for pushing the frontiers of knowledge!

To complement our teamwork in formulating these questions, we have also been reading and discussing our own work as well as key texts in our bibliography- our reports on the festival AfricaDancar, Katherine Dunham's Island Possessed, and Joseph Roach's article on sweat, work and play in the creation of New Orleans' Mardi Gras costumes have given us some great opportunities to talk through our individual approaches to our research theme and construct the common ground shared by them.
In July we return to travelling—Paris, Lisbon, Bangalore, for a start. Indeed, the last weekend of June already saw the first of these field visits by a team member to the Janet Jackson Tribute Ball at the Social Club in Paris. Here's to a great month ahead of thinking on our feet!