Since December 2014, Poema do Semba is more than the beautiful song with which Paulo Flores has made us dream, think, sing and dance. Now it is also the name of a restaurant that the poet opened in Lisbon in which food, music, visual art and poetry come all together to introduce the guest in the poetic universe of semba. In Paulo Flores´ words, the concept goes beyond the idea of a restaurant: it is a place for honouring Angolan social memory, a meeting point and a place for celebrating Angolan culture. The name was chosen as a tribute to Angolan people: semba is not only a musical genre and a dance style, but also the force that united people in colonial times. It was the material on which the nation was forged before independence (Moorman, 2008), and a musical genre that has been able to survive the hardest times and come alive with pride and force, just like Angolan citizens. Flores's Poema do Semba now finds itself at Avenida Dom Carlos I, 140, a few steps from the emblematic Assambleia da República.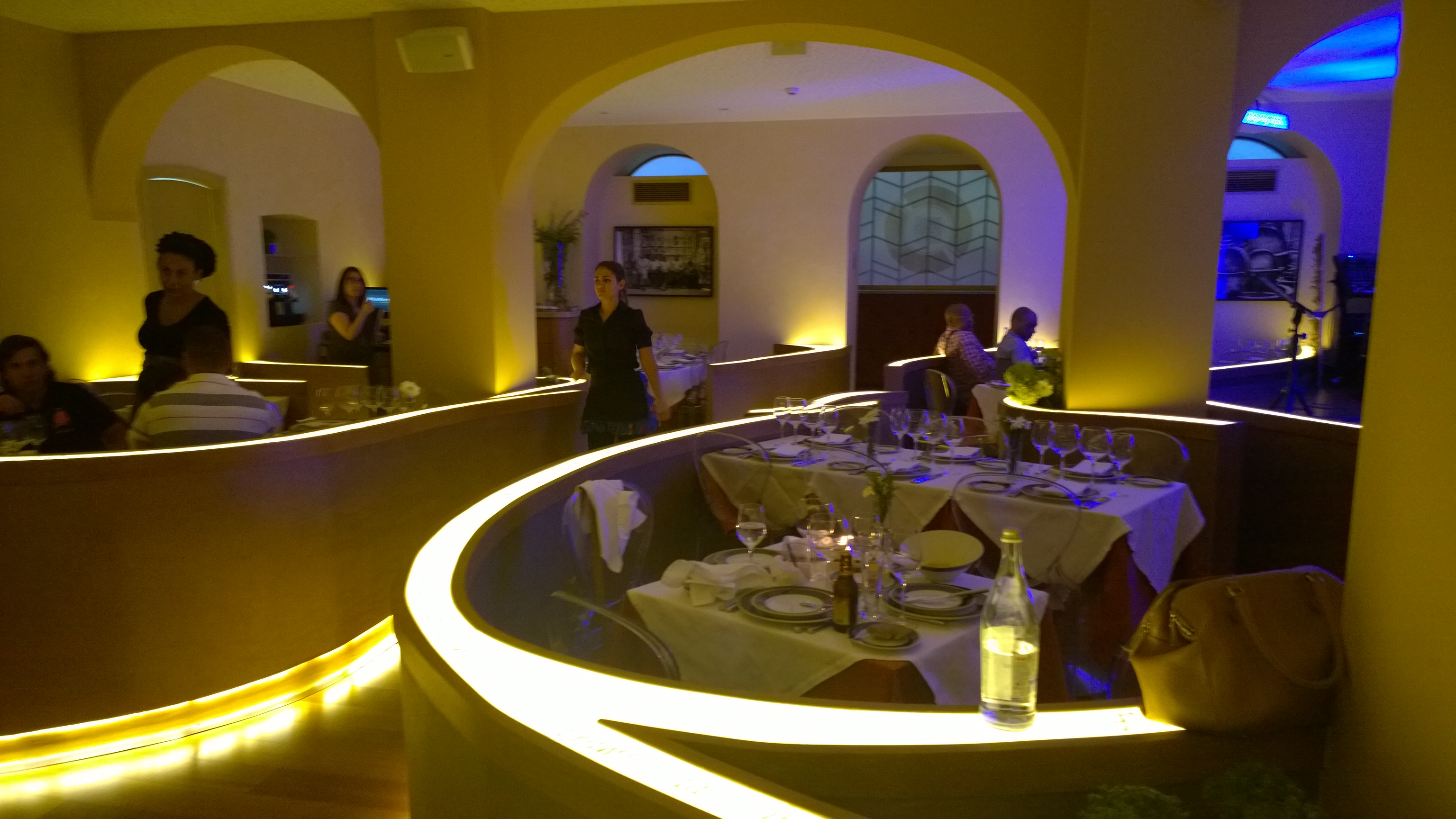 Once we cross the main door, the first thing that makes us enter a magic space is the decoration created by the Luso-Angolan artist Maria João Carlos Gril: fragments of poems flow through sinuous lines that create an organic space that seems to be moving, evoking the roots of a tree that embraces the groups of people sitting on the tables. If we look down from above it has the shape of a big flower. In a soft warm light, we are invited to sit down and abandon ourselves to the universe of semba.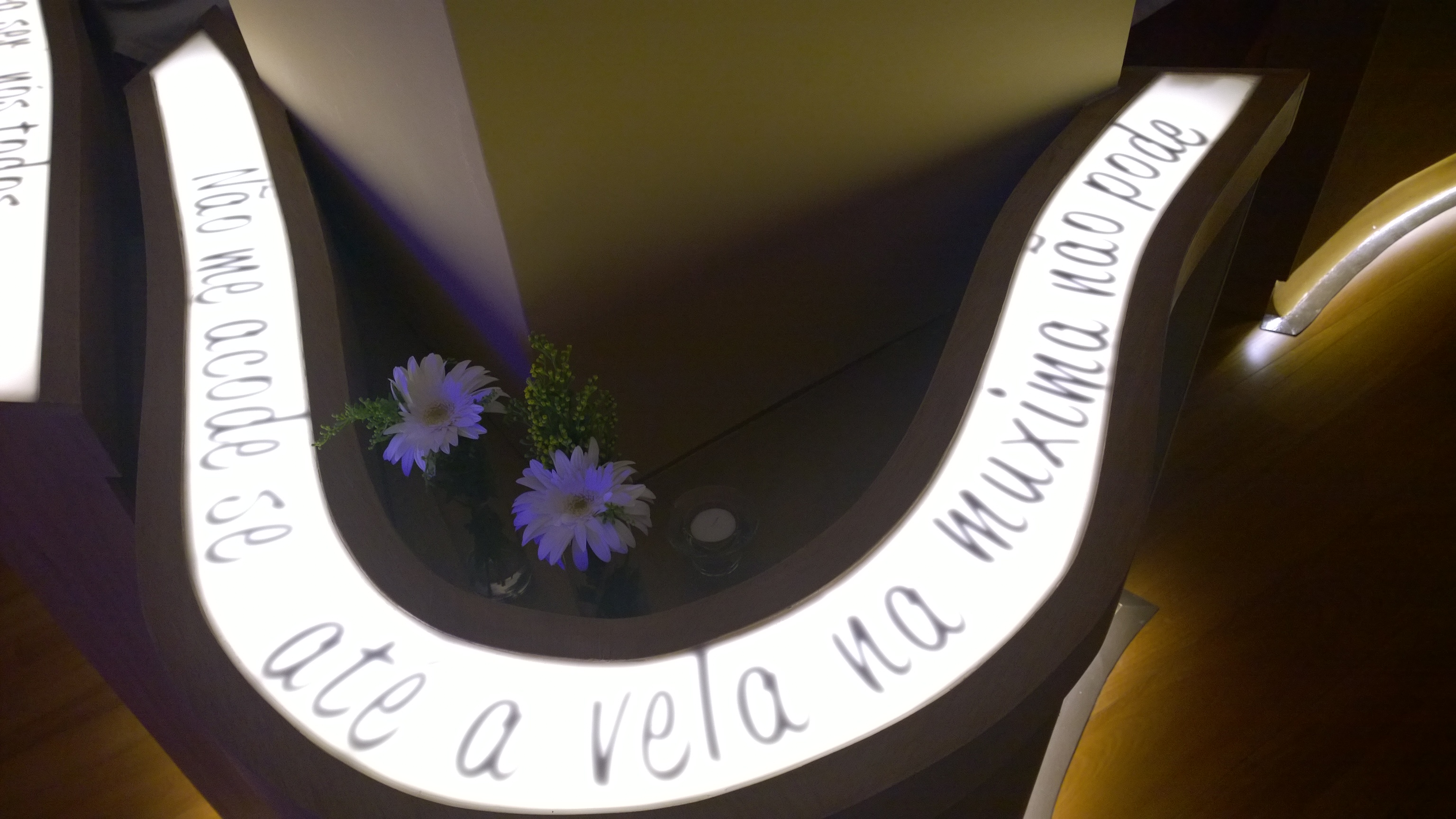 Looking around, we discover exhibited beautiful pictures in black and white of Angolan scenes. These are the works of Angolan photographers: for example, Cassiano Bamba is the author of a big mosaic with the photos of Paulo Flores last album´s cover "O pais que nasceu meu pai" ("The country in which my father was born"), in which we can see scenes of everyday life in Luanda in the nineties; we can also enjoy the work of Zé Pinto with the beautiful image they call "Adam and Eve" and the work of Sergio Afonso, among others. Paulo Flores´ idea is to changing these exhibited photos every year in order to show the work of diverse artists. All the senses are involved, therefore, in this amazing experience of semba.
Once semba has conquered us through the sight and the sensual tactility of the space, the next senses to be delighted are those of taste and smell: the moment to make the dinner choice has arrived. In the menu we can find traditional Angolan cuisine, but also a tropical mixture with foods and drinks from other parts of the Lusophone world, such as Brazil, Goa and Portugal. For those who are not used to complex flavours, there is also a variety of grilled meats and fishes. When asked for recommendations on what to choose, Paulo Flores finds it difficult to make a selection, but he tells us that we should not miss traditional Angolan dishes such as the moamba ginguba, moamba antiga, calulú de peixe, or moqueca de camarão. One of the specialities of the house is the feijão de óleo de palma (beans with palm oil). Let´s explore a few of these flavours before live music starts.
It is suggested to us to start first with a cocktail, being the most typical the caipirinha de mucúa. The mucúa, a fruit that is raised in West Africa, is the perfect way of entering this a new world of flavours. It is served with a snack called madioca laminada frita (fried sliced cassava). Another really nice option is the daiquiri de mucúa.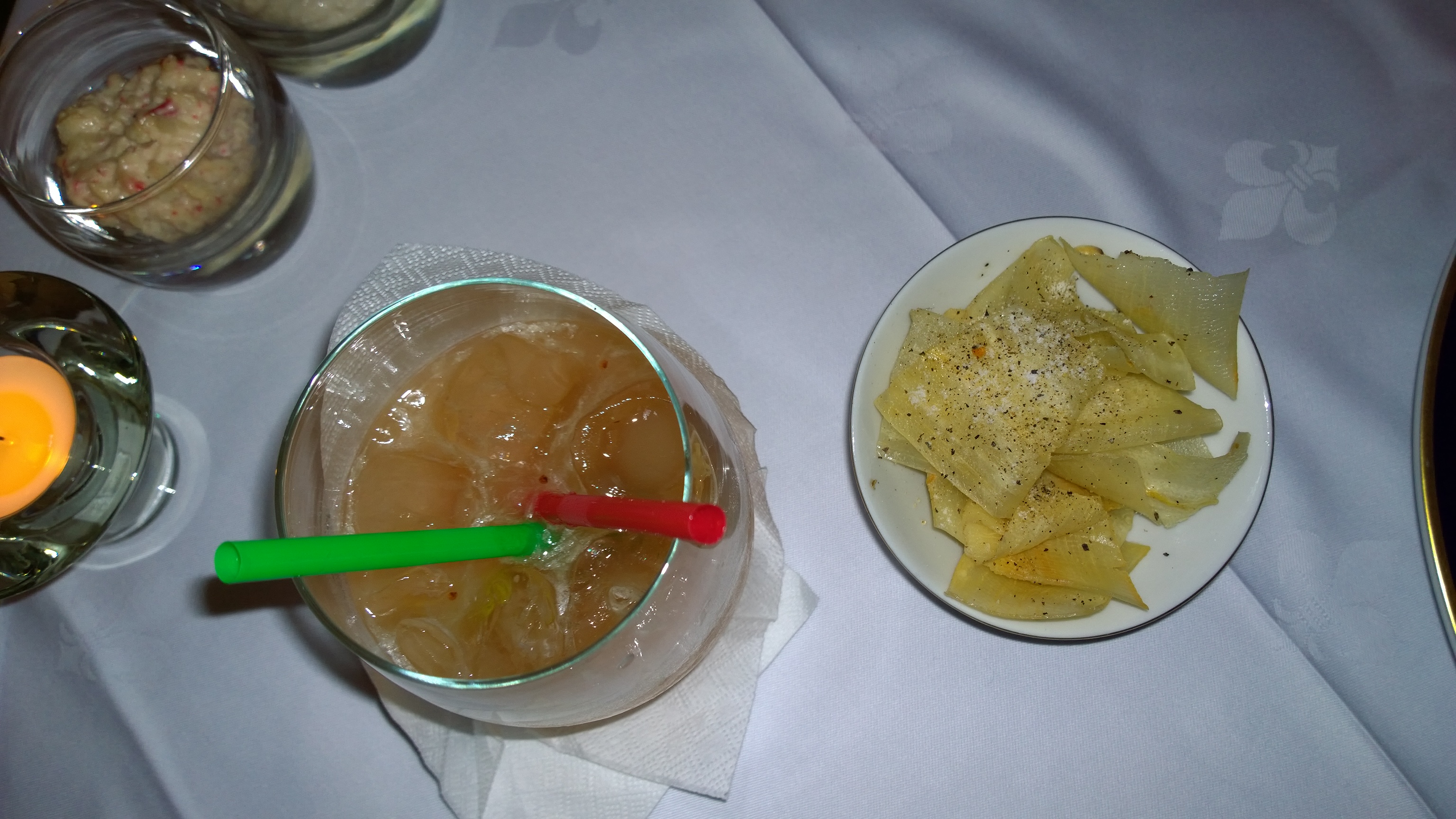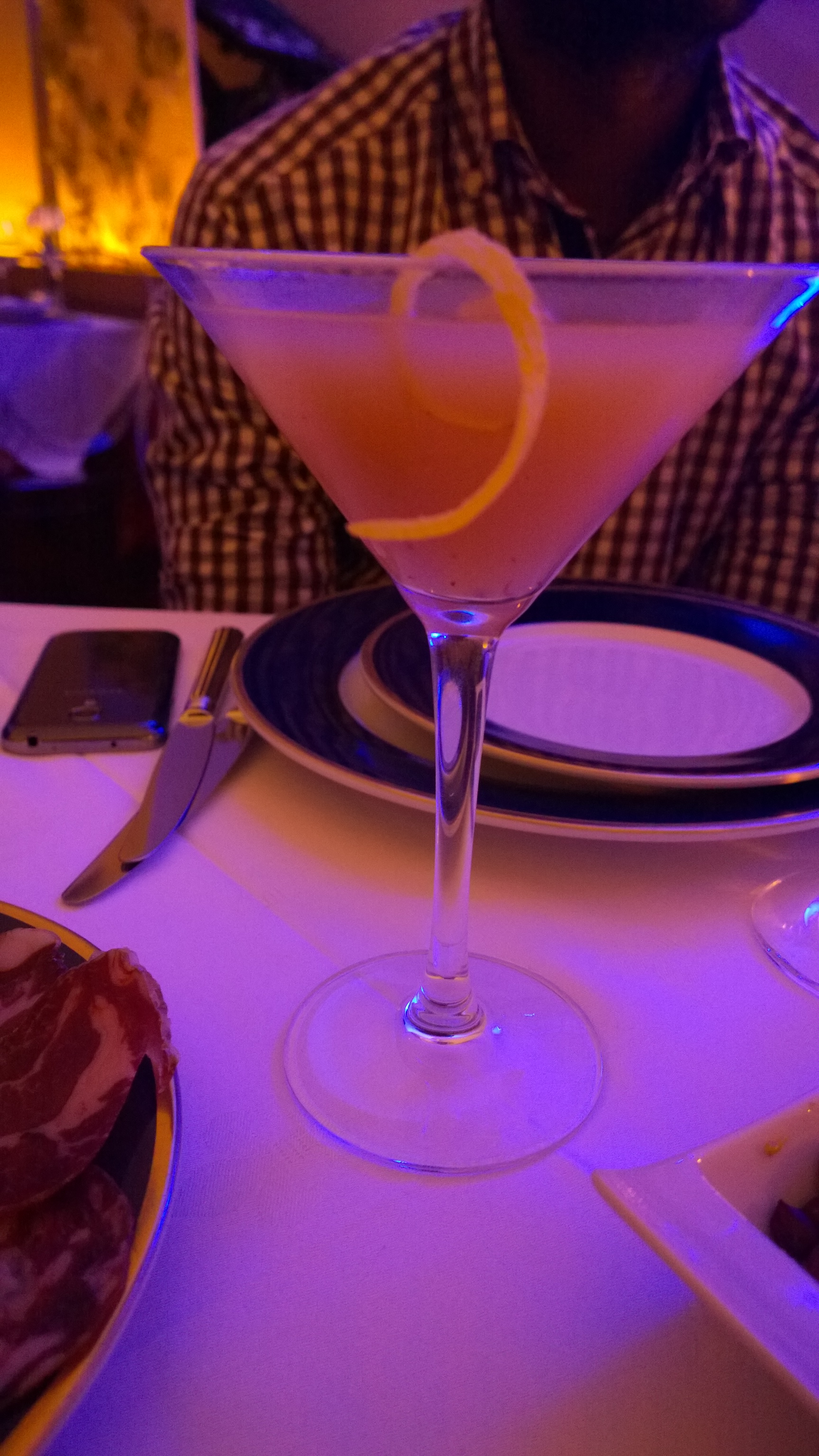 Some of the specialities of the house are the traditional Angolan dishes not to miss: for those who like fish, two delicious options are the Mezongué and the Calulú de peixe. Mezongué is a dish of fish (curvina) with feijão de óleo de palma (beans palm oil), mandioca (cassava), sweet potato, and corn flour with palm oil. The Calulú de peixe (just excellent!) is a dish of fish cooked with lemon and served with funge (a well-known consistent and delicious side dish made of farinha de mandioca) and with the essential feijão de óleo de palma, everything to be accompanied with the popular hot sauce piri-piri (also called jindungu caombo). The muqueca de camarão (a special dish made of prawns) is also great!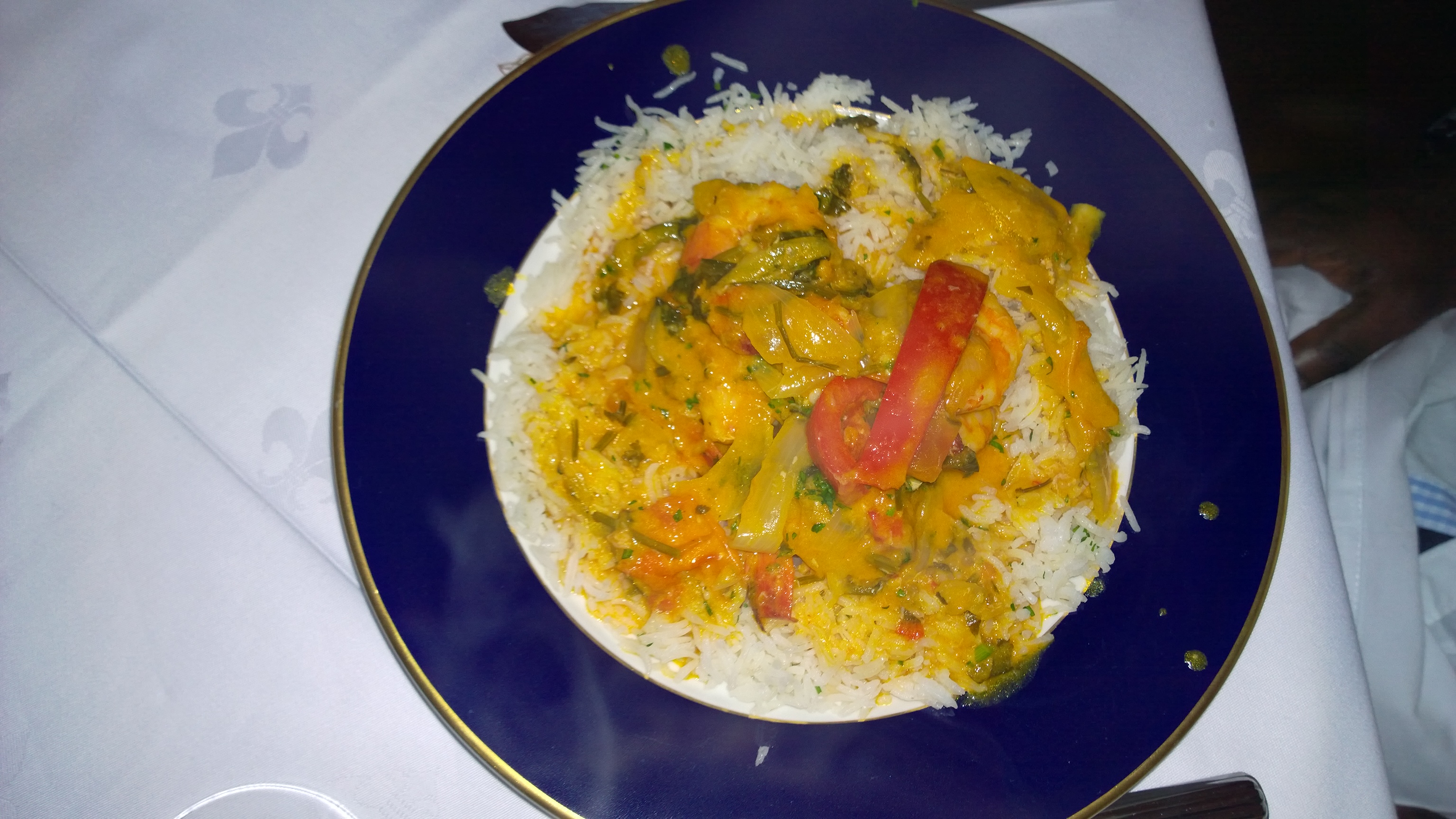 For meat lovers, the essential is the Angolan moamba in all its varieties. For example, the Moamba ginguba is made of galhina rija (chicken), served with quiabos (gherkins), molho de ginguba (almond sauce) and funge to accompany. As a dessert, we could not resist trying the mucúa cheesecake (made of the mucúa fruit): absolutely delicious. Apart from these suggestions, there is a whole world of tastes to explore…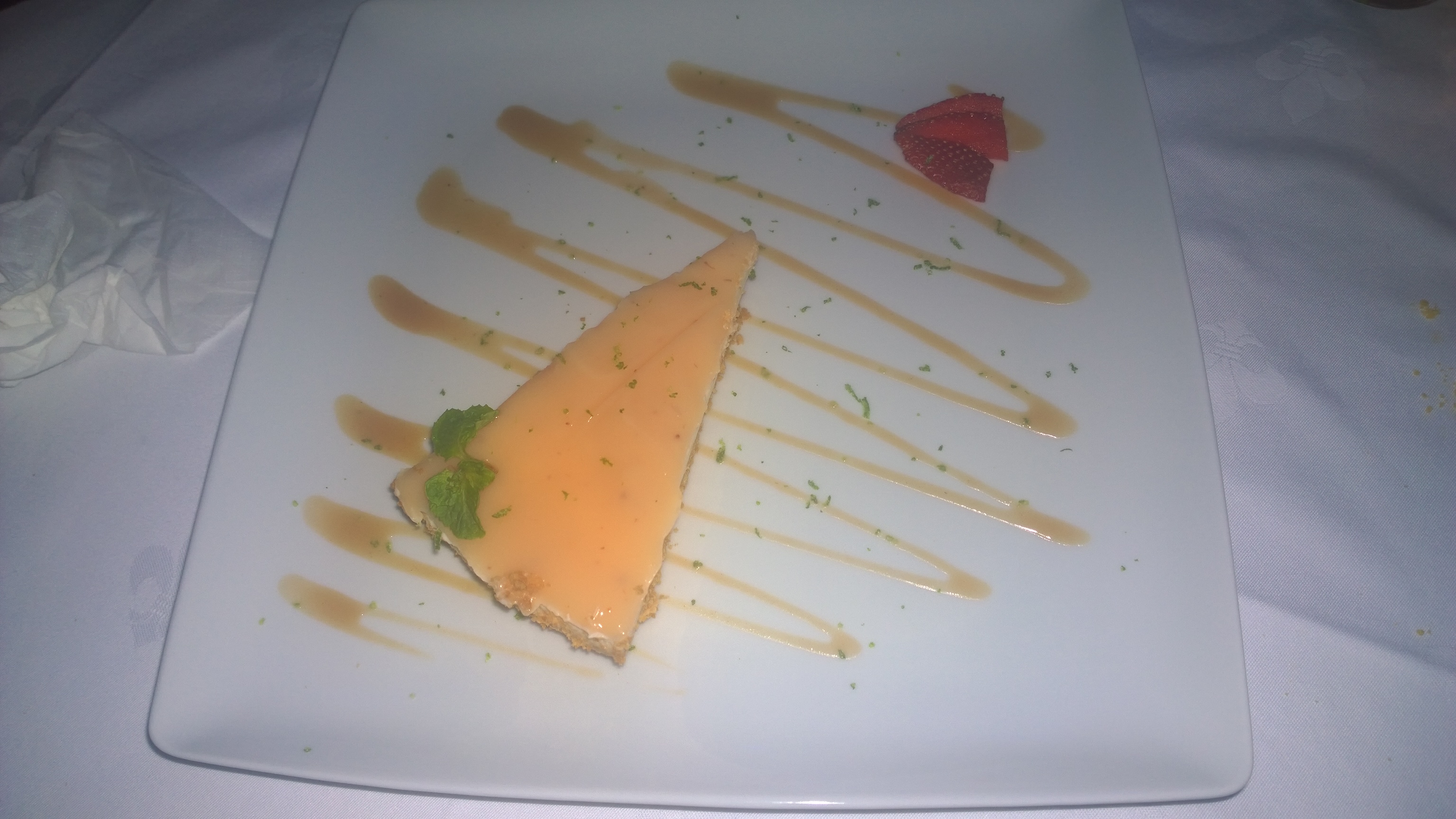 During the dinner Angolan music invades the space softly, but when the moment of live music arrives around 22:15 the ambience is definitely converted into something extraordinary. The sweet and wonderful voice of Paulo Flores distils the poetry of semba and other music styles. He announces that he is going to play uma sembinha antiga (an old semba), "Maria Provocação". Everyone claps and sing along, from the businessmen that have stopped in Lisbon that night in their way to Angola, to the famous football player of Benfica who is enjoying dinner with his family in another table. The mood is magic and contagious. He sings a varied repertoire that combines all songs "that my grandfather used to sing when he was like me", as Paulo Flores says, with recent hits from his last album "O pais que nasceu meu pai". Every once in a while, there is a couple who cannot resist staying quiet with these rhythms and who start dancing. Some children that roam around and get close to the stage, as well as the jokes and informal exchanges between the artists and the clients make the event look like a backyard family party (festa do quintal) at some moments. In this intimate ambience, Paulo is accompanied by his young son Kairi Flores, who has an astonishing capacity for playing the percussion, and the brilliant musician Ciro Bertini on the accordion and the flute.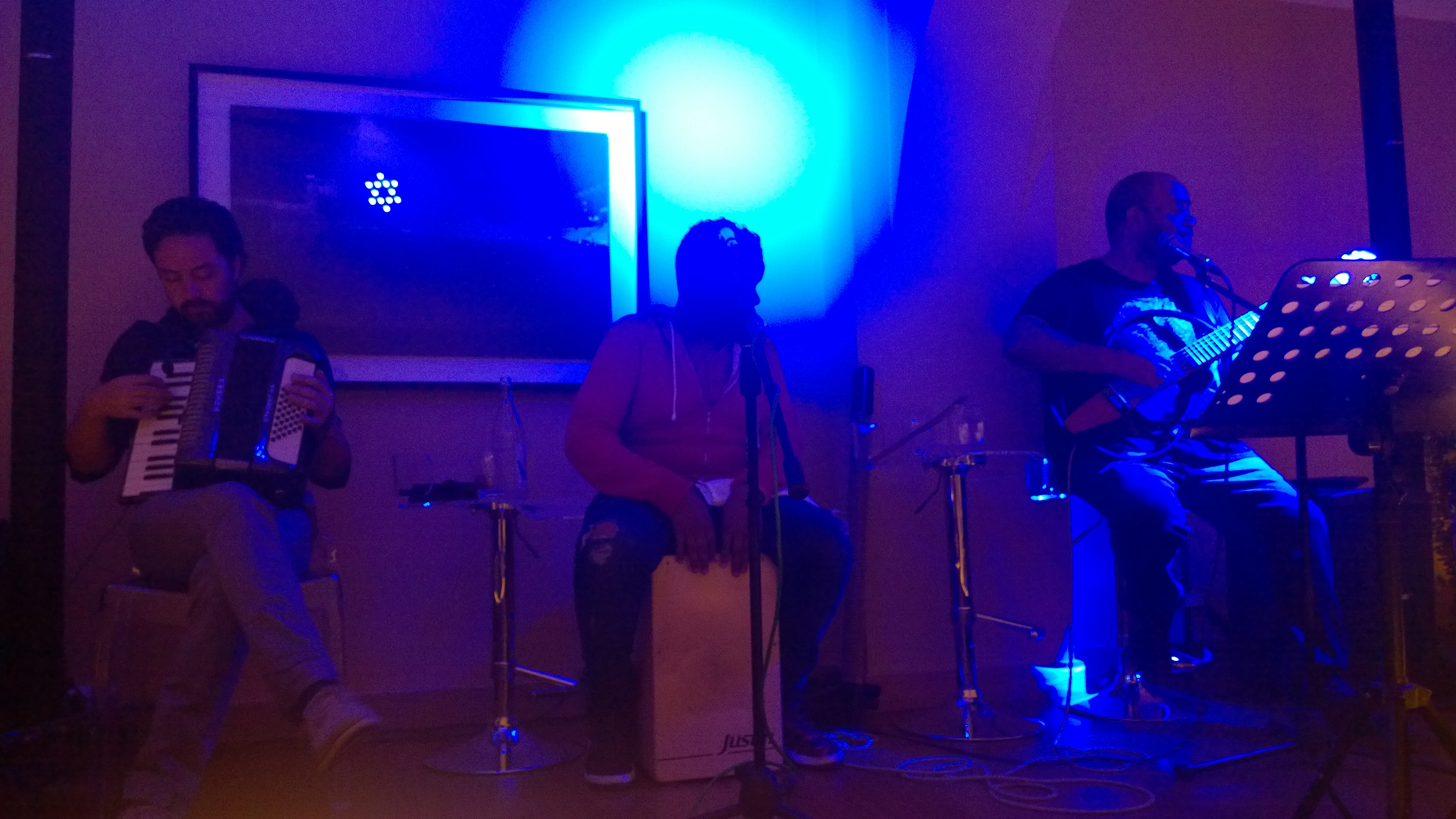 After the first part of the live music night finishes, we have some time to concentrate and enjoy the dinner. But we are not aware of the surprises that are waiting for all of us in the second part. It has been just an introduction to a long night of surprises. Once the second part starts, the first surprise is for Kairi, Paulo´s son: he has just turned 13 years old and one of the employees comes in the stage with an anniversary cake with candles, while all of us sing along "Parabens a você" (Happy birthday to you).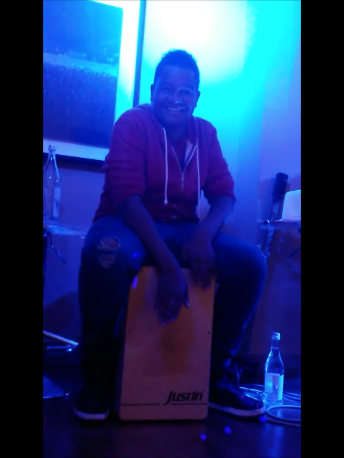 A bit later, someone from the neighbouring table stands up and approaches the stage: he is Yuri da Cunha, one of the most famous Angolan singers and most appreciated in Lisbon. He makes some jokes, takes the microphone, and finally he jumps on the stage to join the other artists. The deep and melodic voice of Yuri da Cunha invades the place, not only with Angolan styles but also with Congolese ones. Paulo introduces Constantino, a young talented artist who leaves all of us impressed with his quality of voice and his virtuosity with the guitar.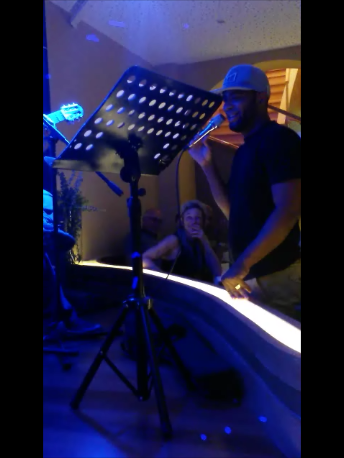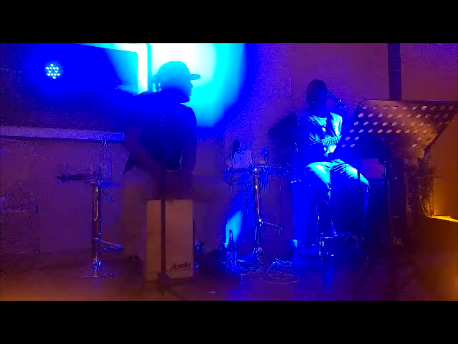 Afterwards, Yuri da Cunha accompanies Paulo in some hits they have already played together, and delights us with his last hit that everyone is singing in Lisbon: "Gago" (stammering), the story of a man who was left stammering because of his love for a woman. He stammers as a joke and as a vocal technique for making rhythmic rap-like patterns in the song. The ambience reaches a climax in this amazing second part and leaves everyone with the memory of an unrepeatable night of semba.
Poema do Semba is opened every day from 20:00 until 02:00 except from Mondays, the only day that it´s closed. During the weekend, the restaurant is open also for lunch. There is live music every night: if you go on Friday or Saturday, you will probably find the resident band of the house, playing a repertoire of the Angolan music of the sixties and seventies.
Paulo Flores can be found on Thursdays and sometimes on Sundays too. In any case, whenever you go you may find a surprise, like the unexpected live intimate concert by Yuri Da Cunha and Constantino. The best-known Angolan artists like Puto Português or Manecas Costa may appear and jump on stage at any moment in the middle of dinner. After all, Semba is also about improvisation…
Livia Jiménez Sedano is member of INET-MD (Instituto de Etnomusicologia-Centro de Estudos em Música e Danca) and her work is being funded by FCT (Fundação para a Ciencia e Tecnologia) of Portugal. She is a collaborator of Modern Moves Project since 2014.
References:
Moorman, Marissa (2008) Intonations. A Social History of Music and Nation in Luanda, Angola, from 1945 to Recent Times. Athens: Ohio University Press.